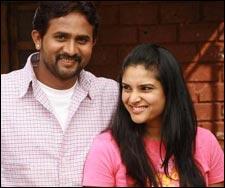 Shruti Indira Lakshminarayana reviews Sanju Weds Geetha
Power packed performances, visual treat, soothing music and a moving love story -- that is exactly what
Sanju Weds Geetha
is all about.
The film that hit screens after much delay is penned and directed by Nagashekar and stars Ramya and Srinagara Kitty in the lead.
It's love at first sight for Sanju (Kitty) when he sees the pretty and feisty Geetha.
The lady is a hard nut to crack but Sanju with his endearing ways convinces her to give up her I hate boys' stand. Love is in the air until Geetha is faced with a ghost from her past. Will Sanju stand by her?
Sanju Weds Geetha
starts off well and Nagashekar manages to grip your attention from scene one with able support from Ramya.
The first half is a great example of mature acting and sensible screenplay as Nagashekar scores full marks for having handled a sensitive issue like child molestation beautifully.
Nagashekar is very symbolic in his approach, doesn't make you cringe and deserves complete credit for the innovative proposal scene too!
The lead pair challenge each other when it comes to underplay and it's not every day that we come across such acting talent.
Ramya looks like a million bucks. She also adds life to the character through her composed demeanour and charm -- definitely one of her best performances.
She has dubbed for herself and this adds weightage to the character.
Kitty comes up with yet another heart touching and quality act. He is very good as a committed lover.
The chemistry between the lead pair only gets better with each frame even as the supporting cast contributes a heck of a lot to the movie.
Arun Sagar and Sharath Lohitashva deserve a special mention and Sharan gets to do much more than comedy.

Umashree's character is well etched out too. Bullet Prakash and Tabla Naani do their bits well. 

All in all, the first half is brilliant however the second half lacks the pace of the first.

How convinced the audience will be about the situations leading to the climax is something that needs to be seen. And will the audience warm up to the 'realistic' ending of a fairytale love story?

Sanju Weds Geetha is a film made in good taste.  Jessie Gift's music, Kaviraj's and Nagendraprasad's lyrics (especially in the songs Sanju mathu Geetha… and Gaganave Baagi) and Satya Hegde's cinematography speak volumes.

Dialogues are well written. What also works is the sense of innocence that plays out through the film. Rain that forms the backdrop to further adds depth.

Nagashekar dedicates this film to his inspiration -- actor-director the late Shankar Nag who surely would have been a happy man.

Watch Sanju Weds Geetha for classy performances and visual extravagance.

Rediff Rating: