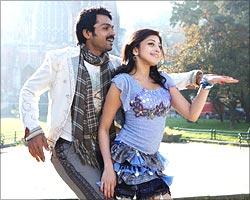 Pavithra Srinivasan says Saguni's music is run-of-the-mill and has nothing new to offer.
So far, career-wise, Karthi has been ticking all the right boxes and Dream Warrior Pictures'
Saguni
seems to be yet another worthy project, billed as a political satire, peppered with liberal doses of comedy and romance. Karthi certainly dons several avatars in it.
Directed by Shankar Dayal, the film also stars Pranitha, and has music composed by G V Prakash. Here's a listen to the album:
"
Busy city – with pasi citizens
," echoes Karthi's rueful voice, and a gentle beat takes over, segueing into peppy music for
Kandha Karavadai
. Shankar Mahadevan and Karthi lend their voices to Paramu's lyrics that give vent to everyone's frustrations and otherwise, about everyday lives in Tamil Nadu. The
dappankuthu
beats and whistles are this song's best bet; they keep you interested.
Manasellam Mazhaiye
kicks off with Sonu Nigam's fluid voice and you marvel anew at his perfect Tamil pronunciation. Saindhavi accompanies him in this romantic number, which definitely harks back to many such '90s compositions, what with the flute interludes and humming.
G V Prakash pitches in at times, as well. Na Muthukumar's lyrics, peppered with standard phrases (but can you blame him?) are strictly serviceable. Run-of-the-mill, from which Sonu Nigam's voice rescues us at times.
A joyful flute sends a swirl of enthusiastic notes into your ears, and straightaway, it's the turn of Baba Sehgal and Priya Hemesh to jump into the enthusiastic folksy number, penned by Viveka.
Vella Bambaram
might be all home-grown, but there's a lot of North Indian influence which sounds quite fresh. Once again,
the beats completely take over, carrying you even through the rap interlude.
And the sounds of a bottle opening once again, finds its way into this album, as
Pottadhu Pathalai
whooshes into existence with overflowing liquor and "quarters."
This one is unapologetically
dappankuthu
and seems a lot more anguished than its predecessors, sung by Velmurugan and Chorus, to lyrics written by Annamalai.
It's all about beer, waste-baskets, bars, and drowning worries in them. The song follows an oft-repeated formula, but is likely to become the signature tune of this album.
Saroj Narayanaswami actually kicks off this one with his AIR announcement about elections, which piques your interest and, by the way, gives some insight into the film itself.
Pushpavanam Kuppusami, Maya Manikandan and Chorus practically waltz away with their zinging beats and folksy tune for
Annachi Ammachi
to lyrics penned by Shankar Dayal himself.
And you can actually feel the energy of an election running through the song, which adds much to it. The appeal of the folk tune carries this one through, ending in a crashing crescendo.
G V Prakash has been steadily making a name for himself with his music, but as far as
Saguni
is concerned, it looks like his brief was: "Deliver a
dappankuthu
album and that's it."
He's certainly carried it out to the letter. It's the energy of the tunes themselves, even if oft-heard, which makes for a reasonable listen; there's nothing of the composer in them.
Saguni
's tunes, except for certain moments, are mundane. Perhaps the picturisation will add some depth to them.
Rediff Rating: