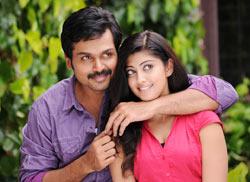 Pavithra
Srinivasan says Saguni is a breezy summer commercial cocktail and that's about it
.
There's a dialogue in
Saguni
that sums up the entire plot, the characters and their motivation rather nicely: "When the time's good, everything falls into place and success comes running; when the time's not, everything turns to disaster."
Produced by Studio Green/Dream Warrior Pictures/Vendhar Movies and directed by Shankar Dayal N,
Saguni
pretty much satisfies all elements of a mass masala entertainer. Which is to say that it has a lot of spice, humour, a pretty girl and superheroes, so you don't really care about all the minuses until after you've left the theatre.
That's not to say that
Saguni
doesn't have its good points – it does. It has as its protagonist, Kamalakkannan aka Kannan (Karthi, back after a break), who arrives in Chennai on a mission to save his ancestral home, and runs into pitfalls at every turn.
For the entire first half of the film, his journey combines with that of Rajini Appadurai (Santhanam) an auto-driver who drives him all over the city, buys him food and drink and eventually becomes embroiled in his affairs.
In the midst of this all is Kannan's cousin, Sridevi (Pranitha), who looks pretty, sings several duets in foreign locales but otherwise disappears into the woodwork. And then there is the antagonist, R K Boopathi (Prakashraj), chief minister who, naturally, creates as much anarchy and chaos as he can.
The first half is entertaining; Santhanam's hilarious one-liners and trademark verbal punches carry you through to the intermission when, thankfully, a mild twist occurs to make you sit up: you're introduced to Ramani (Radhika Sarathkumar), who manages to spice up the screenplay considerably.
The situation builds up neatly to an expected explosive second
half. But though there are a few intriguing moments, it never does take off. You keep expecting Kannan (who suddenly seems to have acquired the brains and acumen of a political king-maker) to produce miracles and he does, except that none of it quite believable.
All Kannan has to do is talk to anyone and they willingly become his slaves for no reason whatsoever. This ability might have been an excellent weapon had Kannan actually produced fantastic, witty dialogues. It so happens that several instant role-reversals occur and plot-twists fall flat, with the result that you begin to look for Santhanam again, to enliven the proceedings.
For Karthi, this role is a cakewalk. He needs some practise dancing, but he emotes, talks, walks and fights very creditably. And though his considerable screen-presence and sly looks carry the film through, he does need to vary his roles.
Santhanam is, as usual, the second hero of the film, propping up the screenplay at appropriate moments. Heroine Pranitha is very pretty and looks a dream in modern clothes. It would have been nice if she had actually had something to do. Nasser, as the suddenly stinking rich Saamiyar is a hoot. Kota Sreenivasa Rao and Roja are wasted.
P G Muthiah's cinematography and Sreekar Prasad's editing have produced a sleek, neat film, but sadly, G V Prakash's numbers add no pep to the proceedings.
Director Shankar Dayal has a promising character in the protagonist – a man who has lost everything and seeks to address his wrongs with his only weapon, his intelligence. He does score sometimes, but the film doesn't really capitalise on these strengths and offers very little logic or common sense.
Still,
Saguni
bills itself as a commercial entertainer, a breezy film with funny one-liners that doesn't really take itself seriously. For a spicy mass masala, that's enough.
Rediff Review: