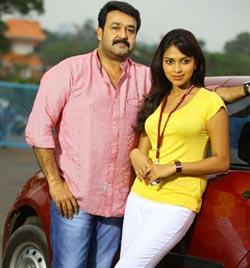 Paresh C Palicha says Run Baby Run is somewhere between a comic caper and a thriller.
The risk taken by reporters to get an exclusive story or to expose corruption, or to bring out wheeling-dealings in high places, has been shown in many films.
The premise of Mohanlal's Onam release Run Baby Run is all these and a lot more. Directed by Joshiy with Amala Paul as the female lead, the film shows the rivalry between two hard-nosed professionals who have a shared past.
An internationally renowned news cameraman, Venu (Mohanlal), works for a foreign news agency in New Delhi. He lands in his own state to cover a sex scandal involving a local politician.
Venu is shown as a professional capable of creating a news story where none exists, so his local competitors, including his old flame Renuka (Amala Paul), perk up, thinking that something big is bound to happen.
We go into a flashback to know the story about how two lovers turned into foes. It's a typical tale of misunderstandings, blackmail, and double crossing.

Written by Sachy (of the erstwhile Sachy Sethu duo), the plot has much in common with the Ranjith Shankar-directed Passenger as far as the workings of the media and the risk taken by reporters to expose corrupt politicians is concerned. And, the love and misunderstanding track seems to be inspired by the recently released Grandmaster.

There is a light-heartedness in the treatment of the story of Biju Menon, head of a newly formed channel fighting for survival and a close associate of Venu and Renuka in the past.

The overuse of the comic element, though, runs the risk of making the story look frivolous, even though we are shown the working of the news industry and the state-of-the-art gizmos used for uplinking 'breaking news' and sting operations.

The acting department depends on Mohanlal a bit too much. He delivers an impeccable performance as a high-profile professional with a weakness for drink.

Amala Paul is good in the banter with Mohanlal, but she has hardly anything to do on her own. Saikumar and Siddique as the villainous 'politician businessman' duo bring nothing extra to the table.

On the whole, Run Baby Run is a comic caper with a thriller backdrop and is watchable for its cast.
Watch the movie trailer here

Rediff Rating: