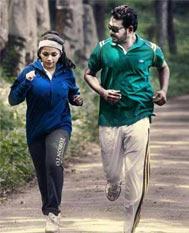 Malayalam film Rebecca Uthup Kizhakkemala is like a TV serial on the big screen, writes Paresh C Palicha.

Sports is both a passion and a career option in Kerala. Hence the number of athletes from here winning laurels at international events. Malayalam films on the theme of sports, though, are rare.

Rebecca Uthup Kizhakkemala promised to be one such film. It is the story of a female athlete, but if you ask whether it is a sports movie, the answer is a plain 'No'.

Directed by Sundar Das and scripted by V C Asok, with Ann Augustine in the lead, the film has all the elements of a family entertainer: emotions, drama, comedy and action, with sports being the peg to hang the story on.

Rebecca (Ann Augustine) has just won a gold medal at the Asian Games. She comes from a modest background. Her father Uthup (Sai Kumar) is a small rubber farmer and her mother (played by Shari), just prays for her daughter's success.

Their story, though, is legendary. Uthup was a farm help on his wife's family estate. The two eloped a day before her betrothal. Rebecca's success ends the 22-year-old feud
between her father and her maternal uncles. But, her uncles still secretly wish to settle old scores with Uthup.
Quite early on in the film one gets the feeling that this film is the stuff of those never-ending television serials. Sukumari, who plays Rebecca's grandmother, is perpetually shedding tears, and there is the obligatory presence of three young men vying for Rebecca's favours.
One is Arjun (Siddhrath Bharathan), her schoolmate who has returned as her coach. The other is Kuravila (Jishnu), her fiancé who also happens to be her uncle's brother-in-law. And then there is Nirmal Jaic as her neighbour.
There is also a long list of supporting actors beginning with Kalabhavan Mani appearing as a priest with a long mane and weird beard. Suraj Venjaramood acts as a thief.
This is the second time Ann is getting a title role after her début in
Elsamma Enna Aankutty
, but she does not impress here as an athlete. She gives a scratchy performance to say the least.
Final words, Rebecca Uthup Kizhakkemala disappoints as a sports film; it's like watching a TV serial on the big screen.
Rediff Rating: