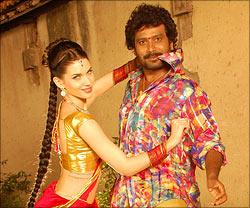 Srikanth Srinivasa feels that Kannada film Prem Adda is quite engaging and intense.
Director Mahesh Babu who had given Kannada cinema some soft romantic movies such as
Akash
and
Arasu
, has made a gory movie with director Prem, now an actor, in an attempt to provide 'realistic' cinema.
Like the Tamil original
Subramaniapuram
,
Prem Adda
is set in the 1980s. The story shifts to the past and back to the future towards the end.
Ranga alias Ranganath (Prem) and his friend Seena alias Srinivas (Murali Krishna) work for a small-time politician in a village who bails them out whenever the friends land in trouble.
The politician cleverly uses the services of the boys to commit a murder, with an obvious political gain in mind. The politician is a turncoat who doesn't come to their rescue after the murder. Ranga, Seena and his friends now seek revenge against the politician who exploited them.
Meanwhile, Ranga is in love with Girija (Kriti Kharbanda) who is the daughter of the politician.
The boys want to give
up their bad ways but circumstances connive against that.
Like the Tamil original,
Prem Adda
is quite engaging and intense, with realistic fights and excessive violence.  The film has been changed to suit the local sensibilities with some scenes added.
Director Mahesh Babu deserves to be commended for drawing a good performance from Prem who had failed to deliver in his first film as an actor, Preethi Eke Bhoomi Melede.  This role suits him well and he is completely at ease mouthing the dialect.
Producer Murali Krishna makes a good debut as an actor.
Kriti Kharbanda, who has limited scope in a film of this kind, is nevertheless impressive.
V Harikrishna's music is quite good and earthy with Basanti….Adda Boys and Kalli Ivalu standing out as good numbers.
Debutant Arun D Prasad's cinematography is quite good; he is a good find. Mavalli Sai Krishna's dialogues are also quite apt. Mass Maada has shot the action sequences well although they are a bit gory.
Prem Adda
will entertain the masses who look for a rustic feel in films.
Rediff Rating: