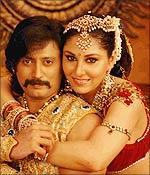 Pavithra Srinivasan reviews Ponnar Shankar. Post YOUR reviews here! 

The first thing that needs to be understood when it comes to Lakshmi Shanti Movies' magnificently advertised 'historical' Tamil movie, Ponnar-Shankar, is that there's nothing even remotely historical about it.

Of course, the movie is based on M Karunanidhi's work by the same name, which is based on legends about warrior brothers among the Goundar community. But it is so commercialised, with half-clad women prancing in Jodhaa Akbar kind of jewellery, and incessant fights, wars and lame dialogues that you get incredibly disappointed.

What makes the movie even more painful to watch is that technically, this story had a lot of potential.
Legends put the story somewhere around the 10th century in rural Tamil Nadu, where the landlord Periya Malai Kozhunthu (Vijay Kumar) lived with his wife and children in luxury.
Soon, it's time for his daughter Thamarai (Khushboo) to be married, and he arranges for her to be married to the ruthless Mandhiappan (Prakashraj), ignoring a promise he made earlier that he would get Thamarai married to her cousin, Masaichamy (Jayaram), a meek man who was thrown out by Mandhiappan himself, his lands confiscated.

Masaichamy appears just in time to claim Thamarai's hand, and marries her. Thamarai's father who, until that moment supports her decision, suddenly turns against her. Her brother, Chinna Malai Kozhunthu (Ponvannan) vows that she will be reduced to wandering the streets. Thamarai makes an earth-shattering vow: she will have two sons who will marry her brother's daughters come what may.

Fast forward at least two decades, and we have a warrior, Rakiyannan (Raj Kiran), opposing his foe about opening a dam in an irrigation dispute. He calls upon Ponnar and Shankar to help him and hey presto! The twins (both played by Prashanth) practically waltz in on their horses, throw everyone around reassuringly with their bare hands and break open the dam with just a spear-throw. 

Meantime, Mayavar (Nasser) arrives, white beard streaming on horseback. Through him we learn that Thamarai and her husband, having slowly built up their fortunes, are now quite wealthy. They have a daughter, Arukkani (Sneha), and here, Mayavar makes the great reveal: Ponnar and Shankar are, in fact, Thamarai's sons.

The twins visit a local festival held in honour of the goddess and meet two half-clad young women, Muthayi and Pavalayi (Divya Parameshwaran and Pooja Chopra). Love blooms after the girls are saved from a tornado on a calm lake.

From then on, there are battles, and more battles and confrontations, pointless conversations that lead nowhere, plenty of wooden acting, incredible stunts, an entire battle sequence lifted straight from The Battle of Helm's Deep, from the Lord of the Rings and many more.

In fact, there's plenty of evidence that Hollywood movies have proved the reference point to producer/director Thiagarajan. While it's heartening to see the lavish sets, courtesy art director R Muthuraj and Shaji Kumar's impressive cinematography, Ponnar-Shankar doesn't really capitalize on these strengths.

The dialogues are choppy, half in colloquial slang, half in chaste Tamil. Don Max's editing is half-baked, and many characters don't make sense. Logic has been thrown out of the window, and none of the major characters, except perhaps Raj Kiran, have any chance of performing.

Prashanth, shouldering the bulk of the movie, looks fit, trim and performs stunts with panache. Sadly, that's all that can be said of his performance. Most of time he's expressionless, and despite taking on the role of twins, there are absolutely no distinguishing characteristics for either. There's no emotional bond to be seen between the twins and you can't relate to their actions.

As for the actresses, never mind the fact that no one in Tamil Nadu's history would dress that way, there's nothing for them to do except smile. The costume department must shoulder the blame for the silly costumes.

The biggest drawback, though, is the fact that historical accuracy has been thrown to the winds. No time period is mentioned, there are no references to places or kings.

Perhaps realising the futility of the project, Ilaiyaraja has just skimmed the bare bones of his usually fulfilling musical compositions. The tunes are all generic, and though the background score rises and falls in operatic fashion, none of it gels.

As a historical movie, this one's an epic fail.

Rediff Rating: