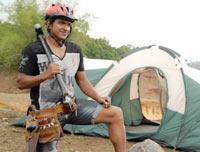 Shruti Indira Lakshminarayana feels Paramathma loses its sheen from the second half. Post YOUR reviews here!
Fireworks were in store much before Deepawali for Kannada film fans as
Paramathma
released across the state. After all, numero uno hero Puneet Rajkumar and the director with the golden touch, Yograj Bhat, coming together is no mean feat.
Param (Puneet) is a man who follows his heart. After graduating with flying colours but flunking his
M.Sc
exams, Param decides to live life on his own terms. From trekking in the Himalayas, ruling the share markets, learning kung fu, to tackling weight issues and trying to find inner peace, Param gives everything a shot. Marrying a chirpy musician (Deepa Sanidhi) gets added on to his list of must-dos. Does he succeed or does Sanvi (Aindrita Ray), who's had a soft spot for him since her college days, become the
kabab mein haddi
?
Paramathma
in the first 30 minutes lives up to all
the hype. Dialogues in the college scenes tickle your funny bone. Puneet's kung fu style knock-outs also impress. But from then on, it's a downward journey.
The second half drags on at snail's pace and has little story to tell. The vivaciousness created in the initial few minutes is lost. Characters come and go but make no impact.
Rangayana Raghu, Ananth Nag, Dattanna and Ninasam Satish are all underutilised. The dialogue, too, fails to strike a chord after a point.
Like all Bhat films, this film too has created screen space for an animal -- a graphically generated squirrel in this case -- but unlike in previous Bhat films, its presence is unjustified. 
Puneet's character is a motor mouth like most of Bhat's previous leading men. Deepa Sanidhi laughs her way through the film and into our hearts. Aindrita has a few scenes to her credit.
Songs by Harikrishna and camera work by Santosh Rai Pataje are the true heroes.
Paramathma
disappoints.
Rediff Rating: