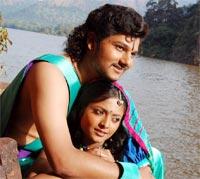 Srikanth Srinivasa feels that Kannada film Parie is a letdown.

Kannada film
Parie
, directed by Sudhir Attavars, is based on the novel Bharadwaj  by Sampanna Muthalik.
Bharadwaj (Rakesh Adiga), a devout Brahmin boy falls in love with Parie (Niveditha), a Lambani tribal girl. Circumstances force him to join the tribal camp.
The Lambanis are engaged in making liquor. Bharadwaj masters the art of making the perfect blend and joins a company, where he wins the trust of his boss Sumedha (Harshika Poonacha).
Sumedha falls in love with Chandrahasa (Nagkiran) who is actually plotting her downfall. As Chandrahasa ignores her, she confides in Bharadwaj who is now her trusted lieutenant. Bharadwaj misconstrues this and thinks she is in love with him.
Meanwhile, Bharadwaj, who had plans to elope with Parie on the eve of her marriage to someone else,
is persuaded by her father to give up the plan. Bharadwaj leaves Parie and goes away.
Does he unite with Parie? Is Parie happily married? This is revealed in the climax.
The screenplay has several flashbacks that can be confusing for the film's chronology. Better editing and keeping the focus on the Lambanis and the Brahmin boy without digressing into the liquor mafia would have made for a more coherent film.
Usha Uthup's song sounds like a marriage song.
L R Eshwari's old melodies are presented as a medley.
Rakesh Adiga has done justice to his role but it is Niveditha's performance as Parie that stands out. 
Harshika Poonacha looks very glamorous but too young for the role, though she has acquitted herself commendably.
Nagkiran doesn't have much of a role. Srinivasa Prabhu shines as Parie's father.  
Parie is disappointing and a let-down.
Rediff Rating: