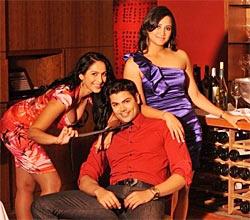 Pavithra Srinivasan says that the screenplay of Panithuli is riddled with plot-holes and tedious dialogues.
On the face of it, Dreams on Frames'
Panithuli
, directed by Natty Kumar and Dr Jay, has the potential to be an edge-of-the-seat thriller. What it is, however, is a mishmash of terribly stereotyped characters trying in vain to mould themselves to suit a surreal landscape. The result leaves you laughing and yawning by turns.
Events kick off in the most predictable fashion with a good-looking guy Shiva (Ganesh Venkatram) and his girlfriend Priya (Kalpana Pandit), who are lovey-dovey and seemingly ecstatic in their paradise.
Even as we're treated to how cute and cuddly the two are, we're also shown that Shiva is the archetypal Tamil cinema hero: he witnesses (somehow) a don burning an innocent, and promptly jumps (again, somehow) to rescue him.
In a fight that gives Shiva the opportunity to show off his fighting skills that would do credit to a professional martial arts exponent, he saves the burning man.
Matters stumble along, with Shiva and Priya professing their love for each other. Priya suddenly decides that their marriage won't happen without her father's consent (which hasn't been asked for until now). Cue for a marvellous twist in the tale: Priya's father happens to be the evil don (who burnt the man),
of course.
Shiva reluctantly accepts an IT job in the US that marks a shift in the movie. His life there swings between extremely cho-chweet and unbelievable situations and you strain to make sense of it, weaving between jerky scenes, hamming characters and stilted dialogues.
It's a pity, because the director's chosen theme actually might have worked had his screenplay been tauter, allowing for just the suspense elements instead of macho excursions. Ganesh Venkatram looks good and even manages to be expressive when required--no mean feat, considering the crippling screenplay. The rest seem like amateurs, getting through their scenes with great difficulty. The American dialogues are cringe-worthy.
While C J Rajkumar's camera-work passes muster, the same can't be said of N Vasanth and Ayyapan's editing, which is choppy in the extreme.
Songs have no place in a so-called thriller, and are obviously thrust in to please audiences. Aknal Roman, Bison and Hussein may have put in some effort, but it doesn't work.
The biggest flaw, however, is Natty Kumar's direction of a screenplay riddled with plot-holes and tedious dialogues. A pity, as it revolves around an interesting premise, but still fails to deliver.
Rediff Rating: