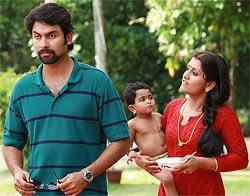 Paresh C Palicha feels Nidra gives you a  contemporary feel but it lacks the emotional tug of the films of this nature made in the past.
It is the season of remakes in Malayalam cinema. Filmmakers are eagerly digging out films that may have worked two or three decades ago, with stories that have the potential to titillate viewers.
So, you wonder what charm a story dealing with mental illness, made 30 years ago, would hold for a young filmmaker making his début as director. That is what Siddharath Bharathan has done in choosing to re-make his father's
Nidra.
The film, made in the early '80s, tells the story of a youth who has bounced back from the nervous breakdown he suffered after hearing of his mother's death, and how the social stigma leads to a relapse. It was a very simply made film.
Siddharath Bharathan has the advantage of using the technological advances made in the past 20 years and the change in attitude to mental illness and the discourse about it in the public sphere.
So, we have the kernel of the old story reworked a little and made a bit complex with the use of flashbacks. Raju (Siddharath himself), who was in Germany to do some research, was not informed of his mother's demise,
and has a nervous breakdown when he gets the news.
He takes a couple of years to recover and after that he marries his childhood sweetheart Ashwathy (Rima Kallingal), who is the family chauffer's daughter. But, his near and dear ones look at every action of his through the prism of his past illness, which frustrates him. It does not help that he has a rather short temper.
To add to the oddities, he has converted his bedroom into a space research lab, and dreams of building an organically self-sustainable world for himself and his wife in the middle of the family's rubber estate. But, his elder brother, Vishwan (Jishnu), has plans to build a resort catering to foreign clients. All this makes Raju very angry and violent and people begin to think that his illness has resurfaced.
To his credit, Siddharath makes this story contemporary by introducing a philosophical angle—debating the difference between sanity and insanity, the concept of reality, and even touching on environmental concerns. Samir Thahir's photography gives the film a glossy look.
On the whole,
Nidra
is a passable remake by a new director, but it lacks the emotional tug of the films of the same type made in the past.
Rediff Rating: