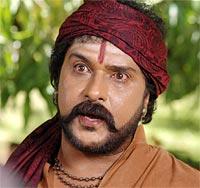 Srikanth Srinivasa says Narasimha falls short of expectations.
Narasimha
takes you back at least 15 years, and to a rural milieu, neither of which will appeal to the young or city audiences. Then, the hero doesn't flirt with the heroine even once throughout the movie because he sees his mother in her!
Narasimha (Ravichandran) is the good samaritan of the village, well-respected, and helps conduct marriages for young girls. He is ready to kill his father after he learns that his father has a second wife. But, the father kills himself, unable to face his son. Narasimha brings his step-sister home.
The story takes a romantic turn with the entry of Varsha (Nikesha Patel) who falls in love with Narasimha, but he convinces her that he can never think of marrying. So Varsha gets ready to marry another guy.
Why does Narasimha behave the way he does, and why he won't get married are questions the film finally
answers.
Ravichandran's fans may laud his excellent performance, but his bulging belly is a cause for worry and he does look a bit tired in many scenes. His diction and the use of chaste Kannada, though, are welcome and refreshing.
Nikesha Patel has nothing much to do but she oozes glamour in the song
Dahana Dahana
which is the only song picturised keeping Ravichandran's fans in mind.
Sanjjanaa makes a brief and spirited appearance in an item number. Ravishankar excels in the role of Ugrappa. Sadhu Kokila is superb in a parallel comedy track.
Music composer Hamsalekha passes muster. Suresh Byrasandra's camerawork is okay.
Director Mohan, who had made
Krishna Nee Lateaagi Baaro,
is better at comedies where his timing is impeccable. This film falls short of expectations but it is likely to appeal to Ravichandran's fans in the rural pockets.
Rediff Rating: