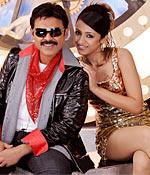 Telugu film Namo Venkatesa is not a religious film, so don't let the title mislead you. As the title says, the film starts off with an obeisance to Lord Venkatesa, advocating a positive outlook to life. But as the story moves on, the 'always be positive' tagline gets submerged.
Nevertheless, director Sreenu Vytla, in his signature style, gives us a film with a lot of entertainment, humour, action and good performances. The songs are shot in picturesque locales of Europe and Bangkok.
Venkatesh reigns supreme throughout the film, providing much fun and sentiment. In the humour department, he is ably complemented by Brahmanandam.

The story goes like this: Venkatramana (Venkatesh) is unmarried, as he has not found the girl of his dreams. He is a simple, innocent man, who is good at ventriloquism, singing and writing. On a trip to Paris, he meets his dream girl Pooja (Trisha), who is the niece of Paris Prasad (Brahmanandam) -- the person who arranges the trip.
He falls in love with her. On Prasad's advice, she feigns love for him. Venkatramana, being the naïve guy, believes in her love. And the drama goes on.

Pooja belongs to a family involved in faction feuds. Her uncle Chengalaraya (Mukesh Rishi) fixes her marriage with his son Bhadram (Subbiraj). Then there's another boy (Akash), also in love with her. The film revolves around who gets the girl and it's anybody's guess, really.

Sreenu Vytla infuses a lot of humour in the film. It looks as though comedy was used to plug the gaps. But comedian Ali's track is not well-developed -- it looks as though the director wanted Ali in the film and hence, wrote a few lines for him. Romance is restricted to the songs.

A sub-plot of faction-rivalry seems unwarranted and has no direct bearing on the story. Similarly, the inclusion of the Namo Venkatesa song near the climax is quite a deterrent.
There is not much of a story but Srinu ensures wholesome entertainment.
He gets the right cast as well. Venkatesh sails through the film with his excellent performance. At this stage of his career, such roles look effortless. He dons the comedy cap with a perfect sense of timing. His characteristic movements depicting Venkatesa -- rather his attributes (when he actually prays to him) -- are good.
Trisha looks gorgeous. Though she does not have an author-backed role, she is quite convincing. For actors like Brahmanandam, Ali, Mukesh Rishi, Kota Srinivasa Rao, J P Reddy, Dharmavarapu and Kashi Vishwanath, such roles are routine. Master Bharath's role does not fit into the scheme of things. The other characters do not have any substantial roles.

The technical aspects of the film are good. The camerawork is good -- particularly the locations in Iceland and other parts of Europe. Some of Devisriprasad's songs sound and look good on screen.

Namo Venkatesa provides wholesome fun for the family.

Rediff Rating: