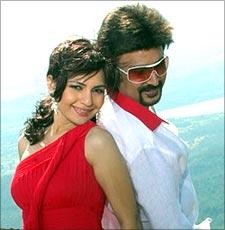 Srikanth Srinivasa feels that Kannada film Nam Anna Don is an enjoyable watch.
Kannada actor Ramesh Aravind, who has made some rib-tickling comedies in the past, has kept it plain and simple with
Nam Anna Don
. His earlier directorial films like
Rama Shama Bhama
and
Satyavan Savithri
were roaring comedies. But according to him,
Nam Anna Don
is a light-hearted family entertainer and he has truly stuck to what he said.
The film turns the spotlight on kids in need of heart surgeries who are unable to pay for them due to the high cost of such operations. There are 22 of them waiting to be operated for their heart ailments.
Dr. Arjun (
Ramesh
) works for a private hospital headed by Malpani (
Nitesh
) who wants the hospital to make profit. Dr Arjun is embarrassed into committing before the media that he will conduct free heart surgeries for children who are in need of such operations. Malpani refuses. Arjun, who is unwilling to conduct free surgeries to start with, is touched by the pain and suffering of a young child and thus tries to somehow honour his commitment of conducting free surgeries for all the 22 poor kids.
Meanwhile, Dr Arjun has a girlfriend Malini (
Mona Paravaresh
) who is always talking over the mobile while she drives a scooter on road. She stumbles on a don on the highway and the don gets killed. The don is brought to the hospital. He is the elder brother (
Nam Anna
) to another don Muthu (
Raju Talikote
). Dr Arjun gets an opportunity to milk Muthu who wants his dead brother back as he is unaware that Anna Don is no more. Dr Arjun and his team make use of this opportunity with Muthu who is willing to spend for his dead brother's recovery that
will help him fund the free operations for the kids. Arjun also gets his boss kidnapped by Muthu's gang. The kids also help the doctor in keeping Anna Don's body in the ICU ward of the hospital intact without letting it decompose.
Dr Arjun gets a brainwave when he sees a kid's sketch of Anna Don and his striking resemblance to beggar Srinivas of the locality. Srinivas, who is a great cricket fan, now agrees to sleep in the same ICU bed that was used by Anna Don with a condition that he should be allowed to see the cricket matches and also get the tickets for IPL finals match.
The rest of the movie deals with how things get resolved and fall into place at the right time.
Though the sequences are hilarious in the second half, the comedy scenes are plain and simple. Ramesh Aravind has stuck to a simple and a straight comic film. There are no over-the-top gimmicks.
It is one of the simplest roles that Ramesh Aravind has ever played.
Mona Paravesh, who part-Indian and part-Iranian looks cute and gets excused after committing a 'crime'.
Sanathini as the nurse impresses. But, it is Raju Talikote's film all the way. Director Ramesh Aravind has avoided much of the spotlight on himself and has instead put it all on the seasoned theatre actor. Raju Talikote does justice to his role.
Rajendra Karanth is also impressive as the dead body and the cricket-loving beggar. Debutants Nitesh and Mathew are adequate.
The hospital scenes are shot well by cinematographer Krishna Kumar. The hospital interiors appear swanky. Mathew who has also scored the music has done well. There's a flashmob sequence in a mall that has been picturised well while taking the shoppers by surprise.
Nam Anna Don
is a light-hearted movie. It will bring a smile on your face.
Rediff Rating: