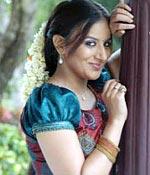 Shruti Indira Lakshminarayana reviews Na Rani Nee Maharani. Post YOUR reviews here!
Old wine in a new bottle - that's this week's Kannada release Na Rani Nee Maharani for you. film is the latest version of Rani Maharani, one of Kannada cinema's best entertainers.
Director Ramamurthy, who had directed the Malashree starrer blockbuster, has directed this version as well. This time it is Pooja Gandhi who does the double act.


Pooja plays the roles of Rani, a village belle, and Pooja Gandhi, an actress. While tomboy Rani is the leader of the village kids group, her lookalike and actress Pooja is a soft spoken girl. Rani has caring parents and a carefree life unlike the oppressed actress. Pooja is a puppet in the hands of her greedy guardians and love is something that she experiences only in films. But following a role reversal incident, Pooja finds love in real life too. Rani, who has aspired for a celebrity life, also gets to lead it thanks to her resemblance to Pooja.
The film comes with a story that has been told and retold not just in Kannada cinema, but also in Bollywood - Seeta aur Geeta and Chaalbaaz, anyone?
Pooja does a decent job with her tomboy act. She gets to pack a few kicks and punches and executed them with greater ease than her leading men. She is also good in a comedy scene that spoofs on agavalli, a character in the blockbuster Apthamitra. 
Chidanand dons the role of a henpecked boyfriend, a role that Jageesh immortalized in Rani Maharani. Akshay needs to fill in more enthusiasm into his act. Pramila Joshia and Sundar Raj as the abusive relatives have little to do. The child actors do a good job though. They are particularly good in a scene where they imitate popular onscreen goons.
Vinaychandra's music is soothing. The song Kugo kolige khara masala from the original has been retained. But the original composition remains unmatched, and so does the original Rani Maharani.
Rediff Rating: