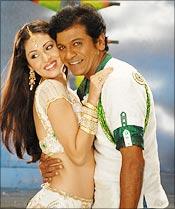 Shruti Indira Lakshminarayana reviews Mylari. Post YOUR reviews here!


As promised by director R Chandru, this week's big Kannada release, Mylari, is a paisa vasool package -- full of action, family sentiment and romance.

Mylari (Shivarajkumar), a village youth, is a complete contrast to his academically oriented younger brother. His love for his classmate, Anitha (Sada), finds expression in beautiful poetry, but his father does not think poetry or writing make for a lucrative career.

Mylari leaves home following a spat with his father over his love affair and his lack of a job, and promises to return only after achieving something in life. If only he knew what Bangalore, the city where he hopes to make it big, had in store for him…

Though Mylari is a formula film, it has you glued to your seat right from the start.

Chandru's reverse screenplay strategy makes the film interesting and makes sure Mylari caters to both the classes and the masses.

Chandrashekar's brilliant camerawork and lighting patterns lend Mylari additional depth.

Well-timed and crisp comedy by Bullet Prakash and Ragayana Raghu provide the intended relief.

Shivarajkumar excels in both the sentimental scenes and mass-appeal moments. While there is a bit of everything, nothing is really overdone. For instance, unlike some of Shivarajkumar's recent films, Mylari refrains from mindless violence. The film also steers clear of vulgarity, even as it maintains the necessary twists in the tale.

Mylari would have made for an ever smoother watch if the songs didn't interrupt at the drop of a hat. Having said that, one must add that Gurukiran's music is appealing. The opening track, which is a mix of folk and rap, is very colourful and the choreographer helps Shivanna put his best foot forward.

Mylapurada Mylari, sung by Shivanna's brother actor Puneet Rajkumar and Sukumari Sukumari, is another pleasing number.
But, though Mylari finds a place in this year's top film music albums, you cannot help notice the inspirations from recent Hindi and Tamil numbers.

Shivanna needs to be commended for his energetic dances; his moves couldn't have been better. He's also very good in the scenes where he shows his frustrations and anger. Shivanna, one word of advice though! It's time you gave college student roles a pass.

Sada is the right choice as the submissive Anita, and she dominates the screen as much as the hero in the first half. She has been given a lot of scope to emote and makes good use of the opportunity. But she goes missing in the second half, only to resurface in the climax.

Suchendra Prasad as the corrupt politician is believable. Directors Suresh Heblikar and Baragur Ramchandrappa appear in bit roles. Another director who dons the greasepaint for this film is Guruprasad, but we would not advise him to give up his day job. Ravi Kale carries off his role as a police officer with ease.

The highly publicised opening sequence, a fight between Mylari and a ram, falls short of expectations. In fact, the presence of the ram had created a lot of buzz as a ram named Mylari had featured in Bangarada Panjara, a superhit Rajkumar film. In Bangarada Panjara, the ram was called Mylari and Rajkumar played Beera. This time around, the ram is called Beera while Shivarajkumar plays Mylari.

The hero's emotionally charged speech in the climax also fails to strike a chord. Also, reducing the flashback scenes would have helped.
This is definitely both Chandru's and Shivanna's 'sure shot' at erasing their past mistakes. All in all, Mylari is a good entertainer.

Rediff Rating: