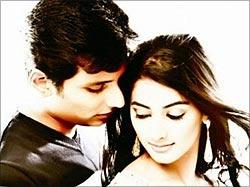 Tamil film Mugamoodi has all the makings of a successful film but ends up disappointing, writes Pavithra Srinivasan

An antagonist who prances about like a James Bond villain; armies of kung-fu experts who still adhere to samurai-like rules in the 21st century; a heroine who is supposed to be as dynamic as the hero but ends up falling in love with him on first sight; an entire battalion of cops who are extremely ineffectual, and one masked superhero who bashes everyone and everything to pulp.
UTV Motion Pictures's
Mugamoodi
(Mask) has everything: Jiiva, who has proven himself a capable lead, a pretty heroine, excellent music from K, and a director who has always made movies off the beaten track and tasted some success: Mysskin.
This time, the team brings us a fantastic superhero tale, born and bred in our own backyard, who declares that he is in no way less than Hollywood's Batman, Spiderman or Ironman (as the villain keeps shrieking in the movie).
Credit goes to Mysskin for attempting to popularise a Chennai-based superhero and he's paid a great deal of homage to his idol Bruce Lee, both in the beginning and the end of the movie, not to mention the many martial arts sequences that Jiiva has performed with much aplomb.
He's also been "inspired" a good deal by at least half-a-dozen Hollywood flicks and world movies, beginning with the opening credits for Mugamoodi itself.
The movie starts on an interesting note: a group of highly skilled burglars (who might almost be rogue Samurai warriors, considering their get-up and masks), armed with the latest in technology, commit a series of heists and murders all over the city and Gaurav (Nasser) is brought in by the Tamil Nadu police in a desperate bid to unravel them.
Meantime, there's Anand aka Bruce Lee (Jiiva), a Kung-Fu exponent who reveres his master and won't stand for injustice. Of course, he falls for the pretty Shakthi (Pooja Hegde),
who actually has the temerity to oppose him.
Lee, unfortunately, has a father who berates him all the time for loafing about, unemployed, but his eccentric grandfather (Girish Karnad), an inventor of sorts, understands his quirks.
It's a reasonably good set-up, and might even have worked had the director not resorted to cardboard cut-out characters and scenes like something out of a medieval Japanese street-play.
Mysskin's love of dramatic moments is well-known, but here, he goes overboard and sacrifices logic and commonsense to startling moments that rarely gel with the screenplay.
Several times the hero, heroine and villain strike poses and spout dialogues that make you want to laugh.
In the second half, as the villain (Narain) strutted in wearing coats, gloves and mask, the theatre erupted in giggles.
What was worse was Girish Karnad smoking a pipe attired like Sherlock Holmes, not to mention the complete ineffectualness of the Tamil Nadu police force, who actually let villains walk away at one point, masks and all. The climax, especially, is a hoot.
Jiiva has obviously given his best, and his martial arts sequences are worthy of applause. Pooja Hegde has little to do; Nasser, Girish Karnad et al are wasted.
Gaugin's editing and Sathya's cinematography are flawless, but they can do little to lift a movie filled with theatrics.
Jiiva's transformation from Bruce Lee to Mugamoodi is explained in a very lacklustre fashion, and nowhere are you invested in the characters at any time.
A superhero movie such as this requires a willing suspension of disbelief, but to give up on realism entirely, is too much. There are very few of Mysskin's signature touches and many scenes appear contrived and artificial.
This superhero might have the best of intentions, but Mysskin's screenplay fails him spectacularly.
Rediff Rating: