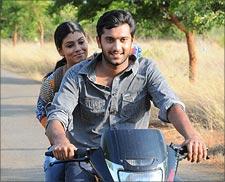 Pavithra Srinivasan feels Mounaguru is a riveting crime-thriller with excellent plot-twists and characters.
There are movies that start out very ordinary, with characters you've seen a dozen times over, and then change track so swiftly and in such pleasant fashion that you're sucked into a very fulfilling watching experience.
Mounaguru
, directed by debutant director Shantakumar is one such. It has everything that might count as a cliche but the marvel of it is that it never descends into mediocrity or becomes predictable.
The movie starts in almost near-darkness inside a swaying police vehicle, with two men sitting morosely in the front. In the back is a man who sobs audibly. And then there's another who stares silently at his hand-cuffs glinting in the meagre light.
Cut to a few months in the past: in Madurai lives Karunakaran (Arulnidhi), a serious young man who seemingly cares about nothing but his studies. He's careful never to involve himself in anything untoward. That he possesses a kind heart is obvious--asked to scare away snakes, he picks one up and gently lets the reptile free in the hills.
But fate is less than gentle with him. He tries to call his brother from a public telephone, but the call doesn't go through, and he can't get his Rs 2 back either. The booth owner refuses to reimburse him, and when Karunakaran smacks the phone-box in passing, it bursts open and coins spill out by the hundreds. "I'll just take my two rupees," he says, but the phone-booth owner thinks he did it on purpose to swindle him.
This is typical of how a web of deceit is spun around Karunakaran throughout the film. A thoughtful man who is engrossed in his studies, he finds himself at the wrong place, wrong time, at every single moment. Every situation that requires him to participate, snowballs into something monstrous. He's one man against a system, and there's no way out.
Karunakaran arrives in Chennai to continue his studies, but his brother's wife makes it clear he's not wanted. Karunakaran resents this and would like to stay away, but then there's Aarthi (Iniya), his sister-in-law's
sister, a medical student who is the only one who is sympathetic to him.
Meantime, isolated incidents happen. There's police officer Marimuthu (John David) who, with his men, is caught in a situation that swiftly escalates beyond their control. On the other end of the spectrum is Inspector Palaniammal (Uma Riaz Khan), pregnant, and transferred from Madurai to Chennai. She is soon embroiled in an investigation that throws up more questions than answers.
As an actor, Arulnidhi has grown; he's much more confident in front of the camera. His character is angry, confused, upset and furious by turns--but at the bottom of it all, he's a real person, not a superhero who magically solves everything with his fists.
Iniya's role is tiny, but she does justice to it. John David as the vicious Inspector is at his flamboyant best and brings plenty of applause.
But it's Uma Riaz Khan who really walks away with the honours. She goes at her job like a battering-ram, never pausing to be afraid or nervous for a minute. Tamil cinema very rarely offers strong roles to women and this one, which has an intelligent inspector at the helm, is excellently done.
Every supporting character, from the college principal to John David's cohorts and the random mentally ill patient, has performed well. It's hard to believe that this is a film, so natural is their body language.
Thaman's music is low key; the songs are limited, thankfully, and don't mar the pace. Mahesh Muthusamy's camera-work offers a sense of intimacy, and takes the tension to a higher level, a job very well done.
But it's clearly director Shantakumar who holds the reins firmly in his hands. His screenplay never falters, even if the pacing does seem jerky in places. There are no
masala
side-tracks or jarring concessions to commercial tastes to mar the proceedings; the climax comes with an unexpected twist as well. A must-watch.
Rediff Rating
: