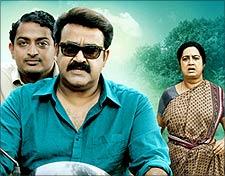 Paresh C Palicha says Sprit is not flawless but is recommended for the sincere effort by the cast and the crew.
It is said that no art or artist can survive in a vacuum. It is only when the artist reflects on the happenings around him and creates something that holds up a mirror to society that his/her work assumes significance.
Veteran director Ranjith has understood this and has come out with a number of films that have shown the churn happening in society in the recent past. He continues in the same vein in his latest venture,
Spirit,
with his favourite actor Mohanlal in the lead.
This film shows how alcoholism has reached endemic levels with liquor shop in every nook and cranny, as these are a source of revenue for the government.
We follow the story of Raghunandan (Mohanlal), who is typing an autobiographical novel on an old portable typewriter. He comes across as a restless person who had left a well-paid corporate job and dabbled in journalism before jumping into writing a novel.
He has a weakness for drink and his day begins with one at home before he heads for his watering hole. The vice has wrecked his personal life too. He is divorced from his wife of seven years Meera (Kaniha), who has remarried their mutual friend Alexy (Shankar Ramakrishnan).
Raghu
comes across as an arrogant intellectual who thinks he is in control of his habits and circumstances. He takes his divorce very lightly claiming it was a wise decision taken by two mature human beings who were incompatible as a couple but are still best of friends. Like every addict, Raghu is in denial mode.
There are places where the characters are rather loud, and this disturbs the sober tone of the story. The other thing that may work against the film is the fact that it sermonises in the second half, but we can overlook this as anyone who has returned from the brink tends to sermonise at some point.
Spirit
belongs to Mohanlal who brings to the table a kind of vulnerability hidden behind the arrogant exterior. There are occasions when the mask of arrogance falls away and Mohanlal has the expertise to handle such situations with élan.
Writer-director Shankar Ramakrishnan, who makes his acting début in this film, is a revelation as he plays a character that is mild and calm and underplays the turmoil that is going on in his heart.
Kaniha as Meera has to be bold and she pulls it off.
All seen and said, Ranjith's
Spirit
is not flawless but is recommended as it makes an effort to make a social comment. Another reason for seeing it is Mohanlal.
Rediff Rating: