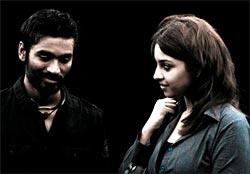 Pavithra Srinivasan feels Mayakkam Enna has a brilliant first half but the film looses the steam in the second half
Some of the best parts of director Selvaraghavan's Mayakkam Enna, are vivid snapshots that are very effective in showing glimpses of the hero's tortured soul.

When his best friend hugs both the heroine and the hero, and mumbles in a drunken stupor, "My best friend, and my girlfriend!" hero and heroine look at each other, awkward and uneasy, both aware of their attraction for each other, but both tied down, in his case by affection for his friend, and in her case because she is supposed to be in a relationship with someone else.

Other effective moments are when the hero, intent on a wildlife photography assignment, tries to capture a bird in mid-flight, and then has an epiphany as he gazes at a fluttering leaf, dumb-struck.

And then there's the brilliantly picturised song, Oda Oda Dhooram Koraiyala, which captures the protagonist's frustration with life and his girl in a way that's both hilarious and touching.

This much anticipated Gemini Circuit and Aum Production film is about a wannabe wildlife photographer, Karthik Swaminathan (Dhanush), who dreams of his photographs decorating the covers of The National Geographic. In reality, though, he is reduced to clicking stills of awkward marriage receptions and B-grade film stars.

He has no family except his sister, but does have a group of extraordinarily supportive friends (a bit unreal, that) who practically clothe, feed and give him a home.

Karthik has dreams of being an assistant to the great photographer Mathesh Krishnaswamy (Ravi Prasad), who rebuffs him in such rude fashion that Karthik crumbles. Life doesn't seem worth living as he drowns himself in stale biryani and beer.

This is when fate intervenes and turns his life upside down. Enter Yamini (Richa Gangopadhyay), his best friend Sundar's (Sundar Ramu) girlfriend. They dislike each other on sight--predictably because they are attracted to each other--and the situations that throw them together are both amusing and heart-warming.

There is plenty of girl-bashing and manly bonding but underneath it all, you know that Yamini is the only one in Karthik's heart, which makes it an intriguing cat-and-mouse game as they trade looks, barbs and quarrels.

But fate plays its hand again in the form of Mathesh Krishnaswamy and events don't quite turn out the way anyone expects.

Thus so far, it's a brilliant film. The characters, setting, and G V Prakash's songs, including Kadhal En Kadhal, are a riot of complicated emotions and intriguing twists. Dhanush and Selvaraghavan have contributed to the music as well.

So far, you are extremely invested in the story, and the screenplay moves at breakneck speed with many of Selvaraghavan's trademark touches. Even the so-called girl-bashing, though squirm-worthy when it happens, does have its reasons.

Particularly effective is Ramji's superb camera-work, considering the hero is a photographer, and creative enough to capture the spirit of his subjects. Kola Bhaskar's editing is top-notch. There's less of hormone-driven sexuality, and more of personality-driven attraction, which is excellent.
Half and hour into the second half, and the illusion begins to dissipate. The characters lose their spontaneity and the screenplay begins to drag so much that it's difficult to suppress a yawn.

Yes, the protagonists are going through great emotional turmoil on screen, but all you can do is wonder when it will end. Dramatic moments lose their impact, and the climax, when it arrives, doesn't have the punch you expect.

Dhanush just keeps getting better and better. The man practically carries the film on his slender shoulders; his eyes and body language convey such expression and emotion that you're carried away. His frustration at not being able to get his breaks, confusion at being attracted to his friend's girl, self-loathing at his supposed betrayal, show skills in acting that truly elevate it to another level. 

Richa looks modern and polished in the first half, an apt foil to the protagonist, with her looks and expressive face. It's an impressive debut and her dubbing artist, Deepa Venkat, deserves kudos. The second half requires her to look mostly unhappy, which sort of lessens the impact.

For the rest, Sundar Ramu, among the friends, does a neat job; others just pass muster, and various secondary characters play their parts.

If there are faults to be found, they lie with the director himself. Selvaraghavan has packed so much into the first half, which practically bursts with spirit, emotion and liveliness, that the fall is inevitable. You expect the second to surpass the first but it doesn't. The overt melodrama bogs you down.

Still, Mayakkam Enna is worth a watch if only for the fact that the director takes a well-used theme and adds his own distinct touches to it; the subtle by-play of emotions and nuances lend it quality. Had he tightened the second half, we would have had a masterpiece on our hands.

Rediff Review: