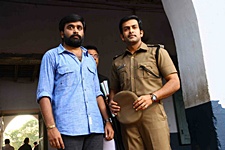 Paresh C Palicha says Masters is a different from the usual crime thriller.
The tagline of the Malayalam film
Masters
is 'Deciders of Destiny'. Directed by Johny Antony, it stars Prithviraj and Tamil director-actor M Sasikumar as two friends, one a cop and the other a journalist. Together they solve crimes and are presumably the ones who decide destinies.
The script is by newcomer Jinu Abraham. First, we see a young woman (Piaa Bajpai) going up in flames. She is apparently a suicide bomber and her victim is a lecherous businessman who had been accused of involvement in a sex racket but went scot free using his influence and money power.
Next we see our heroes being reprimanded in court for accusing a respectable man of immoral trafficking and other crimes. The following sequences establish that Sriramakrishnan (Prithviraj) is a daredevil officer taking on a bunch of goons in the court premises. His friend Milan (Sasikumar) is a timid journalist, who considers his job as a way to earn his bread and butter.
As we would expect, the daredevil cop gets the responsibility of investigating the suicide bombing. He finds there is no connection between the girl and her target. But, she had witnessed her father raping and killing her stepsister.
The plot thickens when a suicide squad begins targetting the perpetrators of sexual crimes who have been spared by the courts. The interesting part is that there is no direct link between the killer and the victim.
By the end of the first half, you know how the story will flow and how it will end. The back stories of the characters interrupt the flow and the pace of narration, and there are hardly any thrilling moments.
Prithviraj has this chilled-out look throughout, without even a crease appearing on his forehead. This is one of his better roles in uniform, where he gets to show his muscular physique, though it comes second to his role as SI Solomon in
Vargam
(2006).
Actor-director Samuthirakani makes a 'blink and you miss him' kind of guest appearance in a song.
The rest of the cast seems to have only extended cameos. Thankfully there is no romantic angle in the story but still there are three leading females--Piaa Bajpai, Ananya and Sandhya. Siddique, Jagathy Sreekumar, and Salim Kumar are part of the supporting cast.
Masters
is somewhat different from the usual crime thriller, but it leaves us with a feeling that it could have been better.
Rediff Rating
: