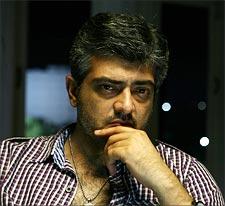 Pavithra Srinivasan feels Mankatha Music is strictly for Ajith fans. Post YOUR reviews here!


Ajith, also fondly known as
Thala,
is back with his 50th movie, Cloud Nine Movies'
Mankatha,
directed by Venkat Prabhu.
The music is by his cousin Yuvan Shankar Raja. The CD and cover look like a manual for the card-game Mankatha, covered with spades, diamonds and clubs, while the accompanying lyrics booklet is the size of playing cards. Here's a look at what the album has in store.
When the song
Vilaiyadu Mankatha
was released as a single, it began the
Mankatha
buzz. The song begins on an ominous, brooding note. Yuvan Shankar Raja, Ranjith, Sucharita, Premgi Amaren, and Anita all pitch in for this club-dance number with lyrics by Gangai Amaren, Yuvan Shankar Raja and Anita. In a way, it's a re-working of the traditional theme introducing the hero, but it works well. It's also similar to a popular ad jingle, but with its thumping beats and menacing tune it's pretty catchy and merits repeat listens. It's the pick of the album undoubtedly.
 By now, Yuvan's fans will be used to his trademark fast-paced violin notes, then the gentle slip into melody, and that's the route
Nee Naan
follows. A spate of soothing guitar notes follows, and there's a nostalgic whiff of Ilaiyaraja's compositions, before changing track again. It is sung by SPB Charan and Bhavatharini (back after a sabbatical) to Niranjan Bharathi's lyrics.
Back to Yuvan's synthesised music in
Vaada Bin Laden,
which rather takes you aback with its opening
lyrics. Krish and Suchitra provide the vocals. There's a heavy classical bent to it but it's catchy too even if Vaali's lyrics are more hilarious than romantic. Example: "
Mathu kadaivathu thayiraithaa
." 
"
Machi, open the bottle
!" yells Premgi Amaren and you have a typically folksy beginning as thumping beats and an enthusiastic chorus picks up the song. It's your mandatory
kuthu
song as Mano, Premgi Amaren, Tippu, Haricharan and Naveen all pitch in with enthusiasm. With lyrics by Vaali, this one is all about taking up the cudgels and winning.
Nanbane
begins with a divine chorus and gentle beats. It's a gently sorrowful tune as women lament the treachery of love. Madhushree and Yuvan Shankar Raja render the song. Finally, Vaali the lyric-writer comes to the fore. You may have heard it before, but this one's still a pleasant number.
Gangai Amaren's
Balle Lakka
comes, of course, with his trademark insouciance and peppiness. Sung by Karthik, Vijay Jesudas, and Anusha Dhayanidhi, it mimics the
Ballelakka
number from Sivaji in the beginning. This one, too, follows a well-worn path.
Mankatha
's theme music is a liberal dash of
Vilaiyadu Mankatha
, and it works, bringing the right amount of tension and menace to the proceedings. Much the same can be said of the
Vilaiyadu Mankatha
remix number.
It's clear that Yuvan has tried to satisfy all sections of his listening audience: the diehard Ajith fans and those who wish for something new from Yuvan himself. They're pleasant listens, but hardly ground-breaking.
Music connoisseurs might complain, but hardcore Ajith and Yuvan fans aren't likely to.
Rediff Rating
: