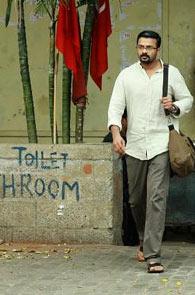 A remake of Hindi film A Wednesday, Malayalam film Thank You is a wasted effort, writes Paresh C Palicha.

Film maker V K Prakash, famed for his prolific output of delivering a film every month will released his latest film, Thank You. Inspired by the Hindi film A Wednesday (2008) for the most part and borrows from other films as well as it moves forward.

A not so young man (Jayasurya, sporting a salt and pepper hairstyle and beard) steals a wireless set from the traffic police in the capital city and informs the control room that a bomb has been planted in a school nearby that will go off in twenty minutes. A young and efficient police commissioner played by Sethu, successfully averts a tragedy by defusing the bomb in time.

The unidentified caller then threatens
to plant a bomb in a restaurant in the heart of the city. This threat turns out to be a hoax.
In a major part of the second half a software professional who has returned to his homeland from the USA sermonises about our lack of civic sense and our apathy towards the sufferings of fellow citizens and how we do not react to injustice and corruption.
There are gaping holes in the plot. It is boring to watch the cat and mouse game that develops and the lectures on how to be a responsible person.
Jayasurya carries the burden of coming good in a role played before by stalwarts such as Naseeruddin Shah and Kamal Hassan. Here he appears as a much older man. Sethu has to be stiff and erect all the time, which he does with aplomb
Thank You
is an ordeal that makes us thank god that it is over.
Rediff Rating: