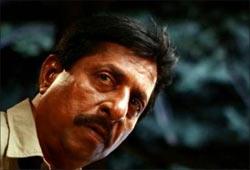 Paresh C Palicha says Shutter which has already won critical acclaim deserves to be successful at the box office too.
We may say that a silly mistake can ruin your life or an experience can transform you forever. But, to really understand such sentiments, you have to meet someone who has been crippled for life as a result of drunk driving, or someone who has lost near and dear ones because of that.
Shutter, the new Malayalam film by first time director Joy Mathew is about such an experience. This film won the Audience Prize at the International Film Festival of Kerala a couple of months ago.
Shutter brings together characters whose lives are intertwined for a day though they don't know it. The most important of the characters is auto-rickshaw driver Sura (Vinay Forrt).
Another is Manoharan (Sreenivasan), a middle-aged filmmaker who is working to get his first film on the floors, and is in the city to get the dates of a superstar.
He gets into Sura's rickshaw and forgets his script there. Sura gets on with his job without realising that the director has forgotten his bag in his vehicle.
Sura also acts as an errand boy for Rasheed (Lal), who has become rich working in the Gulf and has come to Kozhikode, where the film is set, for the engagement of his daughter (Riya Saira).
One of Sura's duties is to get liquor for Rasheed and his friends at the end of the day, which they consume in the empty shop next to Rasheed's house (Rasheed has kept it as an investment, a typical trait of Gulf returnees).
On that particular day, Rasheed feels the need for more drink and gets into Sura's auto to go buy some more. On the way, he feels the urge for something more than alcohol after seeing a streetwalker (Sajitha Madathil) at a bus stand and insists Sura get her on board.
The way the director has etched these characters and woven their parallel stories into a composite tale is the thing that works for this film.
For example, Sura is shown to be a shallow thinker, who yet expresses his opinion on everything and invariably acts on a whim.
Rasheed is mentally still close to his lower-strata roots though he has climbed up the economic ladder. His children, though, lead an upper class life in keeping with their economic status, thus creating a rift between them and their father.
Manoharan is different from these two. He can think through things and provide solutions while maintaining his dour sense of humour.
The streetwalker is typically loud initially but gradually her instincts as a carer are awakened when she finds that the man with her is vulnerable and unable to handle the situation he is in.
All four actors make the most of the parts they have been given. We get a feeling that this film as a whole is almost flawless.
Shutter deserves the acclaim it has already received and we can only wish that its good run continues at the box-office too.
Rediff Rating: