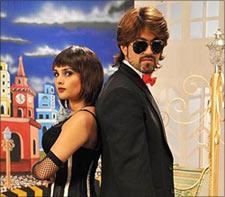 Srikanth Srinivasa feels Lucky is a feel good
entertainer.
Lucky
will appeal to the young--even kids will enjoy it, as a pet dog plays an important role in this movie directed by Dr Suri, with Yash and Ramya in the lead.
Lucky (Yash) is madly in love with Gowri (Ramya), a television anchor below it says she creative head , and nurses an ambition to become an ad film-maker. He has a rival in Gowri's pet dog Zoo Zoo to whom she is so devoted that she seems to prefer the dog to people.
Unable to make much headway in his career, Lucky decides on a makeover: he shaves off his beard, gets his hair trimmed, looks sophisticated, and calls himself Vicky, which in fact is his real name.
In this new avatar he finds a job in an ad agency of which Gowri is the creative head. He gets a flat opposite hers but is scared that Zoo Zoo will recognise him. Fortunately, the dog doesn't. So Vicky befriends the dog and thus wins over Gowri.
But when he proposes to her, Gowri says she is in love with Lucky! Now Vicky has to prove to her that he is Lucky. When he appears in his Lucky avatar, though, Gowri says she now loves Vicky! A dejected Vicky quits the company, vanishes from the scene and returns in his Lucky persona. Will he be lucky in love now?
There is certainly a feel-good factor to the film. Yash looks dashing in the second half as the well-behaved Vicky but he is also equally at ease in his earlier avatar as Lucky, who brings luck to everyone except to himself.
Although the casting is right and intentional, Ramya is made to look a bit older than Yash. She looks divine in some song sequences, especially when she wears a saree. She has an undeniable screen presence and that explains why she is the numero uno of Kannada cinema.

Her dubbing has improved with every film as she has now understood that it complements her performance. Sharan and Sadhu Kokila provide the laughs. But it is the dog Zoo Zoo that is the hero of the movie. Parents may soon find themselves being pestered by their kids to get them a pug.
Krishna's cinematography is good. The songs by Arjun are catchy. Debutant director Dr Suri needs to be commended for this relaxing, feel-good movie. 
Rediff Rating: