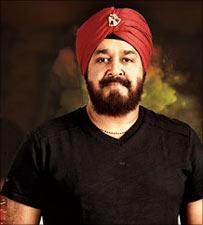 Paresh C Palicha says that it is hard to believe that Lokpal is the work of the director Joshy who has given some good films in the past.
Malayalam film Lokpal, directed by Joshy is a bit like a comic book story where the disguised robs the corrupt, the title referring to the anti-corruption wave India witnessed a while ago.
The film begins with a corrupt bureaucrat in the education department charging students to leak question papaers when he gets a call from someone named Lokpal, threatening him that his money will be taken away in no time.
The guy named Lokpal (Mohanlal) has a website where common people can post their grievances and take action against the culprits.
The problem starts when Swamy's script loses -- it feels like the plot has reached a dead end.

There is an effort to fluff up the proceedings by giving a tepid back story to Mohanlal. An attempted murder, a juvenile home and unrequited love (with Kavya Madhavan) make up the flashback to little effect as the characters fail to evoke empathy in the audience.
We also see influences from Run Baby Run -- Joshy's 2012 directorial project.
We cannot really find fault with the cast as most of them appear to be sleep-walking through the proceedings. Mohanlal does try to add some charm with his role.
Kavya Madhavan is wasted in the role of Nandakumar's old flame and Manoj K Jayan's current wife. TG Ravi who appears in the role of a retired journalist appears to be imitating the late actor Thilakan.
Lokpal is a let down.
Rediff Rating: