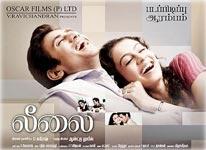 Pavithra Srinivasan feels that Tamil film Leelai is a simple urban romance.
Urban love stories are rare in Tamil cinema these days. But R Movies'
Leelai
, despite a familiar plot, is interesting because of the dialogues and plot-twists.
It is set against the backdrop of the information technology industry, but the story proper starts with Karunai Malar (Manasi Parekh) and her friends, who are students in an engineering college. That's when she first comes across Karthik (Shiv Pandit), who seems to have made a habit of falling in love with, and the ditching, Malar's friends. Naturally, she's prejudiced against him (and with good reason.)
Time flies; Karthik and Malar find jobs in due course and as it happens, in the same concern though in different departments. Both are good-natured young people, helping their respective friends, Vicky (Santhanam), and Suja (Suhasini Raju) to land jobs in the same company. Matters go along smoothly until a mistaken phone connection alerts the two to each other's presence.
That's the sign for the plot to thicken. Though Karthik and Malar are permanently at loggerheads, Karthik
decides that matters need to take a different course.
You'd think leads who don't really possess a Thamizh background might find it difficult to absorb the language, but both Shiv and Manasi bring the urban Chennaiite alive. They are expressive, emote well, and nowhere do their lines sound jarring. Both embody the software urbanite to the life, and it's good to watch two such natural people on screen.
Santhanam seems to be slightly in the background but his one-liners bring the laughs. Suhasini Raju is dignified, and is the perfect friend. The rest of the cast is largely relegated to the background.
Velraj's camera-work showcases the urban landscape well, and Sathish Chakravarthy's background music works well too.
The songs Jillendru Oru Kalavaram and Oru Kili seem to linger in one's memory.
While the first half moves at a spanking pace, the second half sags lightly, with minor plot-holes and songs that hinder the pace.  Andrew Louis's screenplay has plenty of pep, revolves around human emotions and sticks to realism most of the time.
It's a feel-good, simple, urban romance that has its funny moments. Worth a watch.
Rediff Rating: