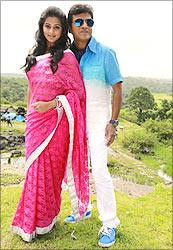 Srikanth Srinivasa Shivarajkumar-starrer Kannada film Lakshmi is an average film with rich production values and picturesque shots of Hong Kong.
Director Raghava Loki falters mid-way through
Lakshmi
after a good start, which gives audiences the feel of a thriller. The film ends on predictable lines with all the usual run-of-the-mill stuff.
Lakshminarayan (Shivarajkumar), called Lakshmi, is a CBI officer assigned to check human trafficking and embezzlement. He leads a life that is full of tension but is helped by his dutiful and loving wife Priya (Priya Mani).
One day Priya goes missing after she comes to know that her husband has secret weapons stashed in their bedroom. Priya becomes an object of suspicion and Lakshmi thinks she has fled with a criminal. Lakshmi's search for Priya takes him to Hong Kong and he does find where Priya is living but doesn't get to meet her. Priya is now part of a terrorist gang, operating from Hong Kong, whose kingpin is played by Ashish Vidyarthi. Lakshmi gets wind of Priya's whereabouts and her involvement with the gang.
Does Lakshmi meet Priya and does the couple reunite? This forms the
remaining part of the story.
Shivarajkumar as usual excels in the action scenes. There is little room for displaying emotions in this role for Shivanna.
Priya Mani looks slimmer and prettier than before and does justice to her role. However, her character is not meaty enough.
Rangayana Raghu's scenes could have been chopped as they are slightly overdone and unnecessary. Avinash is wasted in a small role. Ashish Vidyarthi wreaks some havoc while Ravi Kale looks a bit timid.
The music by Gurukiran is nothing much to write home about. Chandrashekar's camera work is excellent as the audience gets to see the skyline of Hong Kong. The scenes shot in the casino are also splendid.
The first half is brisk and engaging but the second half drags. It seems director Raghava Loki has lost direction of the film after the first half. What seemed like a thriller and a spy story becomes the usual
masala
film in the second half.
The film has nothing much to offer except some stunning images of Hong Kong. Go for it if you want to see the locales of Hong Kong and its skyline.
Rediff Rating: