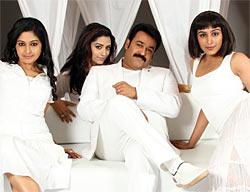 Paresh C Palicha says that it is hard to believe that Ladies and Genleman is the work of the director Siddique who has given some good films in the past.


The festive season is considered auspicious by the film industry as family audiences splurge on movie tickets. The industry keeps its biggest and finest offerings for these periods. And what can be bigger than Mohanlal in the Malayalam film industry?


Especially if he joins hands with Siddique, the writer-director, who recently joined the Hundred Crore Club in Hindi films with Bodyguard, starring Salman Khan.
Siddique was a trendsetter in his initial days in partnership with Lal, and maintained an enviable success rate even after parting ways with his partner.


But, his latest venture, Ladies & Gentleman can only be termed a half-baked effort. It's more like a patchwork of some of Mohanlal's films.


Mohanlal is a great actor and he can take a film beyond the scope of its script. He has also maintained that his trust in the director is complete so he never has second thoughts once he has committed to do a film.


So, one wonders why he cannot show some discretion in selecting a film, or later, to see how it is developing. Many times his flair and hard work go to waste because of mediocre or below average scripts.


In this film he is an alcoholic named Chandrabose who saves a young man Sharath (Krish J Sathar) though he is himself feeling the pain of a separation from his wife Achu (Meera Jasmine) on their seventh wedding anniversary.


Then the focus shifts to the establishment of an IT company by a bunch of young people led by Sharath under Bose's mentorship. The team has three females-- Anu (Mamta Mohandas), Jyothi (Padmapriya) and Chinnu (Mithra Kurian).


After achieving great success in a short time, the relationship between the four youngsters begins to sour and they go their own ways. There are elaborate verbal fights, long winding conversations, pep talks and what not, which if detailed here will make even reading this uninteresting.


All of a sudden, a Sixth Sense kind of twist happens by the end of the first half, leaving the viewer dazed.


It looks like director Siddique was more concerned with embedding some socially relevant messages in his film rather than telling an interesting or cohesive story.


The worst part of that being that he had to keep a separate comic track with Kalabhavan Shajon as Mani, who is Bose's all in all and it is unimaginable coming from a man who has given us some of the most memorable comedies in the past.


As for the rest of the cast, Krish J Sathar, who makes his debut in this film needs to sharpen his skills further considering the competition he will have to face in the future. The four ladies try to hold their ground with whatever little they have got to work with.
Final words, Ladies & Gentleman is a half-baked film and it's difficult to believe it comes from someone of the stature of director Siddique.


Rediff Rating: