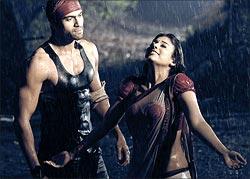 Radhika Rajamani feels Krishnam Vande Jagadgurum has a fine story and well-defined characteristation.
Krish (Radhakrishna Jagarlamudi) makes movies set in a contemporary milieu. He weaves topical issues seamlessly into the plot, and makes it riveting to watch. His earlier movies
Gamyam
and
Vedam
are testimony to that.
His latest film,
Krishnam Vande Jagadgurum
, blends together the dying art form of theatre called Surabhi and the topical issue of mining in Bellary.
There's enough drama in this action adventure to keep one glued to the screen.
B Tech Babu (Rana Daggubati) is a reluctant theatre artiste who wants to go to America for higher studies. But his grandfather (Kota Srinivasa Rao) wants him to continue acting and participate in the Bellary theatre fest.
After his grandfather's death, Babu realises that his grandfather wanted the play he had written called Krishnam Vande Jagadgurum to be staged there. This actually binds the Surabhi troupe and Babu to stay together.
Babu and the Surabhi troupe arrive in Bellary where they run into Devika (Nayantara) a documentary filmmaker who is trying to expose the illegal mining resorted to by Redappa (Milind Gunaji) and Chakravarthi (Murli Sharma).
Babu locks horns with Redappa and comes to know of his shady past. The film is thus about staging the play and fulfilling his responsibility as well as about the tribals fight for their land. The film links the art and mining issues well. Mythology, philosophy and reality unfurl in a fascinating manner.
There are some terrific moments in the film which includes the
climax.
The good screenplay is matched by some fine dialogues by Sai Madhav Burra which are not just punchy but loaded with meaning.
Murthy's art direction and Gnanasekhar's cinematography reflect the mood and tenor of the film.
Mani Sharma has done a great job with his musical score, particularly the background and the song
Jarugutunnadi Jagannatakam
which is written so powerfully by Sirivennela Seetharama Sastry.
The two item numbers and the
Spicy Spicy Girl
song are distracting. Brahmanandam's character of a theatre artiste seems to have been written with the idea of providing some relief.
There are certain images in the film that are indelibly printed on the mind. The Narasimha avatar played by Rana is one such highlight.
L B Sriram's portrayal of the tribal Matti Raju who is digging mud is so powerful that it lingers on much after the film. The characterisation of Devika as a fearless filmmaker who will go to any extent and even risk her life for the truth, is admirable.
Rana Daggubati shines in this film as B Tech Babu.
He has enough scope to show his acting skills and his body which he does with aplomb. As Narasimha he stuns one with his powerful portrayal. This is by far Rana's best performance.
Rana shares a good chemistry with Nayantara who gets under the skin of her character. She imparts a sense of seriousness and purpose to her role.
Milind Gunaji is well suited to the role of Redappa. Kota Srinivasa Rao, Brahmanandam. Posani Krishna Murli, Rajesh, Hema and others do a decent job.
All in all,
Krishnam Vande Jagadgurum
is a film to be seen for its fine story and well-defined characteristation. It is both thought-provoking and entertaining and the music, camera work, acting and technical elements are all good. Go watch KVJ.
Rediff Rating: