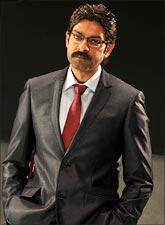 Radhika Rajamani feels Key opens the door to a different experience. Post YOUR reviews here!
Key
has been advertised as a different film from the time it was shot. So, one went with that presumption, and it lived up to its promise. It is quite 'different' from what Telugu cinema is churning out. First-time director Nagendra Prasad has made a good effort with this film.
The entire film is shot in a single location -- a ritzy room. There are nine people (all newcomers) who are here to write a final test (after passing many other hurdles) for a corporate concern. They are ushered in to this posh room which looks a bit strange with a hi-tech locking system and manned by a security guard. It seems more like a strong room.
After they are seated, the invigilator (Jagapathi Babu) comes in and tells them they have 90 minutes to answer one question. He lays down some restrictions: they cannot spoil the paper, they cannot talk to the security guard, they cannot try contacting the invigilator, and so on. After he leaves, the candidates look at the paper and see only their candidate numbers written on it. So begins the acid test to decipher the
question and crack it.
The whole film is all about who wins the test of endurance. The candidates are from different backgrounds and it's interesting to see how they battle it out in the room. There are charges of cheating and spying too and some are disqualified.
Nagendra Prasad seems to have taken the idea from a foreign film but adapted it to the Indian corporate context. His script is fairly taut as he builds up the interplay between the characters. Although the film keeps the audience wondering what will happen next, it could have had a bit more pace.
P G Vinda, the cinematographer, has done a fine job with the camera in the confines of the room, ensuring that there is no feeling of claustrophobia, while at the same time making it eerie.  
Vijay Kurakula's background score is in tune with the film though it tends to overpower at times.
Jagapathi Babu makes an impression as the plain-speaking invigilator at the beginning and at the end. The other actors playing the candidates have done a decent job.
The key to understanding
Key
is to watch it. It's a short, atypical film but a loaded one!
Rediff Rating
: