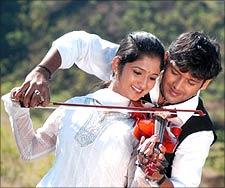 Shruti Indira Laskhminarayana reviews the Kannada movie, Arjunan Kalgejje. Post YOUR reviews here!
Roopika and Vishwas face the acid test in this Friday's release, Kalgejje.

The film sees Roopika playing Arti, a dancer. While she belongs to a well to do family, Vishwas aka Gauri Shankar is from a humble background. His dream is to make it big in the music industry. Whether or not his music fetches him a film project is another matter, but what it does is find him love. But Arti's mother wishes for her to be an actress. Will these two youngsters have time for love?

Director Bangaru does little to break conventions in this film. There is nothing different in the love at first sight scenes, hero fighting the bad boys trying to tease the heroine, or a mother going against her husband's wishes and encouraging the son to pursue his interests kind of situations.

One thing that is a bit different is this time around it is just not the heroine crying at the drop of a hat but the hero too. But when it comes to music, he is a strong man! He is shown penning lyrics in no time, singing songs and composing music too.

The film has some of the most talented actors as the supporting cast but they could have been used better. Ninasam Ashwath for instance, is cast in a trivial role. Raju Talikote's dancer act also fails to impress. Ananth Nag plays an unsupportive father who later converts. Rangayana Raghu plays a caring father while Pavithra Lokesh is an ambitious mother. She is a fan of director Puttana Kanagal and wants to realise her unfulfilled dream of becoming an actress through her daughter. She brings out the insensitivity well.

Yet the impact of the pairing and scope for acting fails in comparison with the duo's previous film, Olave Mandara. Roopika and Vishwas show signs of improving with their future projects. The film also features actor and dancer Shridhar in a classical number. But the dancer is limited to just mouthing the song and this comes as a disappointment.  A host of music composers and directors feature in bit roles too.  
Camera by Murthy is the strong point of the film. Gandharva's music also is soothing. While Swatimaleya... is a peppy number, the song Badukinali bayaside... is meaningful.
Kalgejje comes with a message for both parents and children. It, on one hand shows how wrong it is to impose one's career plans on their children, and on the other hand, shows how children should resist from disregarding parents.
It also highlights the struggles of youth aiming to make it big in films. If the story was told in a different way, it would have come as a breath of fresh air. 
Rediff Rating: