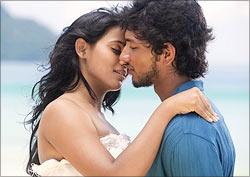 Mani Ratnam's Kadal lacks a compelling story, writes Saisuresh Sivaswamy.

Certain things are a given when you go see a Mani Ratnam film, like amazing cinematography, music score, performances -- not to leave out love in the time of conflict.
It's not without reason that Nayagan (1987) remains the jewel in his crown -- it encompassed all of the above, plus a bravura performance by Kamal Haasan. Everyone acknowledges it as a film on the underworld, forgetting that there was a sensitive love story in the chassis.
Personally, though, his best film came four years later, with Thalapathi that wrenched out a lead performance by Rajnikanth shorn of mannerisms and superstarisms.
It is hard to live down a reputation when you have films like the above, and Roja, Anjali, Bombay, etc in your filmography. And sometimes the reputation becomes a cast-iron straitjacket from which it becomes difficult to break out. You know what the audiences expect, and you know the pitfalls of not meeting them.
The weight of expectations cuts both ways. Even as the director labours under it, for the passionate cinema-goer it becomes a battle of wits. You so pray for the director to push the envelope and when he doesn't, hope that he at least deliver what you know to be his benchmark, not go below it.
So it was with a conflict of emotions and expectations that one sees Mani Ratnam's latest film, Kadal (Ocean in Tamil).
A few things are immediately welcome. After the last couple of films where he tried to overreach to a national audience, by making his films bilingual and casting non-Tamil actors, something I have expressed myself against, he returns to familiar territory.

Ratnam's forte is his native idiom, and Kadal, I am glad to note, sees a return by the master filmmaker to what and where he knows best.
About the other expectations from his films:
Great locales: Check. Seldom has the coast off southern Tamil Nadu been presented so wondrously. Tamil Nadu Tourism should immediately sponsor the film.
Knockout cinematography: Check. Director Rajeev Menon drops everything to get behind the camera for Mani Ratnam, and you know he simply cannot disappoint.
Memorable songs: Check. Does Allah Rakha Rahman save his best for his mentor, or does Mani Ratnam automatically bring out the best in the Mozart of Madras?
Choreography: Check. Brinda is in splendid form. The songs Elaikeechan and Adiye are a visual and aural treat.
Script: Check, no, wait, errr…
So you come out of the cinema and wonder what was the story about exactly.
Was it a love story?
Was it about conflict, inner or outer?
Was it a revenge drama?
What exactly was it?
So it is a love story, featuring debutants Gautham Karthik (a third generation actor) and Thulasi Nair (second generation). But the first half barely sees them together, barely are the embers of love lit (love, I wrote, not passion. Of the latter there is no evidence). But you hope the second half will make amends in kindling love and uniting the lovers against all odds.

PS: Hope dashed.
So it is about conflict, but this time inner. Arvind Swamy, of Roja fame, who was last spotted on screen 12 years ago in a guest role (in his mentor Mani Ratnam's film Alai Paayuthe), returns older, plumper, and more sober, as Father Sam. His early zeal in the seminary is missing when he comes to this Christian fishermen's village as padre.

A chance encounter well into the film with an expelled 'saathan' from the seminary, Bergman ('Aakshun King' Arjun in a negative role), pushes his life off God's path, posing a moral dilemma at the end. As conflicts go, there was nothing epic about this one.
So it is a revenge drama. But if the yearning for vengeance was coursing through Arjun's veins all these years, he does nothing about it till his chance encounter with Swamy.

And even when he coopts the latter's ward, Karthik, into Satan's path, there are stretches when the hero is out cavorting with the under-developed girl who catches his fancy instead of being by his new mentor's side and the latter doesn't seem to either miss him or wonder what he is up to.
The film so easily could have been all there, segueing from a love story to a revenge drama to one of conflict, but as it turns out, it doesn't.
Mani Ratnam's ocean, far from being part of the plot, is just the backdrop. The ocean with its various moods and shades is presented beautifully by Rajeev Menon, but it does nothing to move the script along. So during the final conflict when it is in turmoil, rather than become a character, it remains a prop.
Of the performances, veterans Arjun and Arvind Swamy do a fine job just as you expect. But they play a supporting role and the film ultimately rests on the shoulders of the two debutants.
Of them, Gautham Karthik is a natural and emotes spectacularly, much better than his father Karthik did in his own 1981 debut film Alaigal Oivathillai. Clearly, this kid will go far.
Thulasi is still a child and while she has to go through the film with an innocent expression, when the script demands that she come to life at the end she manages to do it well. Tamil actress Radha's daughter (who debuted opposite Karthik in Alaigal…), it must be in her genes.
It's interesting that these two have debuted in a love-story set in the Christian coastal belt of Tamil Nadu. The film in which their parents made their entry into films 30 years ago was also a story set in the coast, of love between a Hindu boy and a Christian girl, and was helmed by Tamil cinema's then reigning king of romance Bharathi Raja.
Like Mani Ratnam, he too would assemble a team of master craftsmen and spin fascinating tales of all-conquering love.
But unlike Kadal, that 1981 film had a compelling narrative. Maybe Mani Ratnam should revisit it.

Rediff Review:



Also Read: Review: Kadal has nothing new to offer