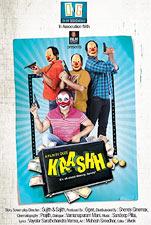 Paresh C Palicha says Kaashh has some glaring gaps in the narrative and the climax is kept open for a sequel.
Finally, Malayalam cinema is experimenting with new themes and new people without the backing of big names.
Unfortunately,
Kaashh
, written and directed by newcomers Sajith and Sujith, and with a bunch of young actors, is not a good example of this trend.
The basic plot is reminiscent of the mimicry films of the early 1990s that began as thrillers, switched to comedy at half time, and ended up as 'free for all' action. 
The good thing is that the screenplay is tight—confined to two hours—and things are not stretched out unbearably.
The story is about a kidnapping gone wrong with some comic situations and thrilling interludes.
Four young men led by Rajeev Pillai (of Celebrity Cricket League fame) plan to kidnap a  played by Leena Panchal (another North Indian model making her entry in Malayalam movies). But they soon botch the plan, especially Bineesh Kodiyeri who plays the joker. During a police chase they enter Innocent's home.
Innocent was rich in the past and is now troubled by debtors. As the action shifts to his place there are humorous situations galore, though not all of them strike us as funny.
There is Aniyappan as a pizza delivery boy, Mammookoya as his boss, and Suraj Venjaramood as a Home Guard whose wife is a domestic help in Innocent's home.
Most of the film is shot inside the house which makes the film look static and theatrical in places. Rajeev Pillai gets to show his gym toned muscles in his introduction scene, playing beach volleyball. After that he is just the brooding leader of the group.
Basil (who made an impact in his previous film,
Cinema Company
) is a bearded, serious-looking kidnapper with nothing substantial to do. The onus of the performance is on the seniors—Innocent, Mammookoya and Suraj Venjaramood—and they put forth the standard fare helping the film to sail through when they are on screen.
There are some glaring gaps in the narrative and the climax is kept open, suggesting that a sequel might be on the cards.
Kaashh
is an average film despite having a young team of actors who have done their best.
Rediff Rating: