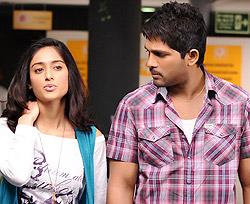 Pavithra
Srinivasan feels Julayi is a no brainer which loses steam because of the glaring lack of logic.
This isn't the first time director Trivikram Srinivas has managed to score with his dialogues--he made a mark in the Telugu film industry because of that, after all.
So, Haarika & Hassine Creations'
Julayi
, with him at the helm, provides some moments of sparkling wit. Of course, the fact that it has Stylish Star Allu Arjun in the lead doesn't hurt, either.
Bittoo (Sonu Sood) plans and executes a daring heist of Rs 1500 crore ("inspired" as has been remarked, by
The Dark Knight
).
At the other, and much more fun, end, is Ravindra Narayan aka Ravi (Allu Arjun), a happy-go-lucky guy with razor-sharp wits and little taste for slogging for a middle-class livelihood. He has a penchant for betting, too, and as destiny would have it, he crosses paths with Bittoo. Ravi isn't really looking for a smart enemy, but when he does meet one, sparks fly.
The two pit their intelligence against each other and it ends with Ravi being relocated in a witness protection programme. That's when the fun begins, as he resides with the hapless yet kind-hearted cop, Seetharam (Rajendra Prasad) and his raucous family (and resident thief, Brahmanandham).
Here he meets the girl of his dreams, Madhu (Ileana). It's certainly refreshing to see a heroine who thinks she is a frump, wears voluminous salwars and large glasses, and yet she's the one Ravi falls for. Of course, Ileana being who she is, reverts to her usual glamorous self, but the interlude is sweet, even if short.
Julayi
is about this cat-and-mouse game between two men who are almost each others' equal. It works – up to a point, especially the scenes where Ravi predicts Bittoo's movements with alarming accuracy.
Then there's the humour as well: situations set up as part of the screenplay which provide genuine laughs and avoid the mistake of being too loud, a refreshing change from the usual.
Where the film fails spectacularly is in following through with the suspense built up over the first half. Ravi appears to have powers untold when it comes to foresight and outsmarting villains, but the sheer amount of brawn, guns and bullets he uses to beat the villain's schemes, is unbelievable. He also seems to have the kind of power senior police officers only dream of, and he's only a civilian. These are the moments when the dialogue and smart twists fall apart, making it ultimately disappointing. Even the message the film delivers in the end doesn't have much of an impact.
Allu Arjun can do no wrong with a character like this: he carries the movie on his capable shoulders, hurling punches (both verbal and physical), bashing up goons and going gaga for his girl.
Ileana appears rather haggard, and but still manages to look chic. Rajendra Prasad is a hoot with his droll expressions and clumsy antics, while Brahmanandham, though in a small role, delivers a neat performance as well.
Sonu Sood is suave and cunning. Veterans like Kota Sreenivasa Rao and Tanikella Bharani add depth to the proceedings.
Devi Sri Prasad turns out a dance-worthy album once again; the pity is that none of the songs, except perhaps
Oh Madhu
, fit into the screenplay. The songs all jump out seemingly from nowhere.
Chota K Naidu and Shyam Naidu's cinematography is everything it should be for a film like this: slick and neat. Pravin Pudi's editing works well, too.
This movie has a lot of things going for it: humour, good dialogues, and a lead that certainly works hard at being in character. But all that hard work loses steam because of the glaring lack of logic and gaping plot-holes.
Julayi
is fun, just as long as you don't exercise your brains too much.
Rediff Rating: