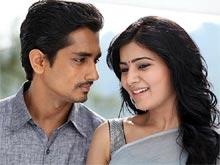 Radhika Rajamani says Jabardasth is hugely inspired by the Hindi film Band Baaja Baraat.
For her second film Jabardasth director B V Nandini Reddy has tread cautiously. She has taken the central thread and theme from the Hindi film, Band Baaja Baarat and given it a slightly desi Telugu twist by peopling it with more characters, and added some humour.
The characters are pretty well etched but despite this and the local flavour, the Hindi film looms large.
Byraju (Siddharth), an orphan, makes a living out of conning people. He runs away from Bihar to escape an arranged marriage and comes to Hyderabad.
The brother of his would-be bride (Sayaji Shinde), starts looking for Byraju in Hyderabad. Byraju meanwhile usurps a job meant for Shreya (Samantha) by rattling off her presentation to an event manager much to Shreya's chagrin.
After a while both are thrown out of their jobs and set up their own event management company. They get prestigious assignments and make money. But Byraju's past haunts him and his creditors are gunning for him, as is Shinde.
Byraju and Shreya split up, and Byraju sets up on his own. He meets Saraswati (Nithya Menen) who works in his company. A don (played by Srihari) in Malaysia calls them for his sister's wedding. Who will Byraju eventually be together with?
The film is funny most of the time. The first half was rather fun, but the second part dragged quite a bit. In spite of all the humour, the film is largely predictable and routine.
Siddharth plays Byraju with elan. It's perhaps the first time he plays a character who doesn't know English, and speaks it in a funny broken way. His pairing with Samantha is good to watch on screen.
Samantha is getting better by the day. She's done her role with great gusto and it's a delight to watch her on screen.
Nithya Menen plays Saraswathi with great flourish. The other character artistes, Srihari, Tagobothu Ramesh, Shinde, and Dharamvarapu Subrahmanyam, play their parts well.
The cinematography is fine. The editor could have clipped off a few minutes of the film. Thaman's music is okay.
Nandini Reddy made a refreshing Ala Modalaindi two years ago but in Jabardasth, you see a strong hangover of Band Baaja Baraat.
One expected something more from Nandini Reddy.
Rediff Review: