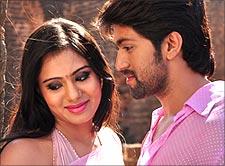 Srikanth Srinivasa says Jaanu could have been a better film had the ending would have been better.
Jaanu
, starring Yash and Deepa Sannidhi has turned out to be a tame affair. The ending particularly is devoid of drama leaving one feeling a bit flat.
The film follows Rukmini alias Jaanu (Deepa Sannidhi) as she runs away from home in Belgaum to Mysore to watch the Mysore Dasara. She lands up in a hotel run by Siddhartha (Yash) and his partner Ramaiah (Rangayana Raghu).
When she is unable to pay her hotel bill, she decides to go back home. Sidda wants to make sure he is repaid and accompanies her on her journey home. It is an ordeal for him: he misses the bus and ends up getting robbed.
They finally arrive in her village, where Sidda is attacked by her father Rudre Gowda (Shobhraj) and his men. Sidda is shocked but as a true hero, puts up a tough fight.
Rudre Gowda thinks that Rukmini had fled with Sidda, hence the attack. By now, Rukmini is in love with Sidda. Misunderstandings are soon cleared and Rudre Gowda forces Sidda to stay with the family
and accept their thanks.
Sidda realises that he too is in love with Rukmini. Of course there is an impediment in the path of true love as Rudre Gowda wants his daughter to marry someone else. Sidda's partner, who has arrived on the scene by then, encourages him to elope with Rukmini, who is more than willing.
The film winds on to the climax. It ends rather tamely, on a 'happily ever after' note.
Yash is adequate and is good in the action sequences.
It is Deepa Sannidhi's film all the way. She comes across as an innocent but outspoken girl and audiences are bound to like her.
Rangayana Raghu and Sadhu Kokila manage to raise a few laughs. Shobhraj is effective as the heroine's father.
Harikrishna's music is adequate and so is Krishna's camera work. Director Preetham Gubbi should have dramatised the climax scenes a little more.
Jaanu
is an average entertainer that lacks the zing thing in the climax that could have left some impression on the audiences' minds.
Rediff Rating: