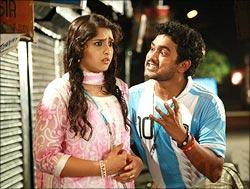 Paresh C Palicha feels that Malayalam film Idiots lives up to its name.
It seems that the makers of Idiots really brought out all the idiocy in the film. 

In the Malayalam industry, where humour is a way of life, it becomes hard to guess if experimental humour of this kind would work.

Idiots is directed by newcomer K S Bava and based on a story by Sangeeth Sivan (who is also one of the producers of this film).

Sanusha, a rich heiress hires a killer called Beeran (Vijayraghavan) to murder her and implicate her two-timing boyfriend for it.
Beeran is a novice, he gives the contract to Freddy (Baburaj), a juice stall owner, who owes Beeran money.

Asif Ali enters the scene as a petty thief in Sanusha's house. First, she mistakes him for the hired killer but he somehow gets himself out of this weird situation and returns to save the girl's life. By this time, Freddy has reached the place.

What ensues is a comedy of errors.

There are several laugh-out-loud moments too. But the plot doesn't hold up well enough for the humour to count.

The romance that develops between the lead actors and the songs appear out of place.

In the end, Idiots is a film that you would like to forget as soon as you get out of the theatre.

Rediff Rating: