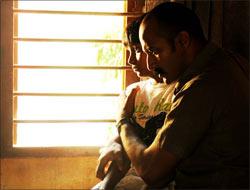 S Saraswathi says Haridas disples the myths and ignorance surrounding autism and emphasises the importance of a father's role in the life of his child.
Director G N R Kumaravelan of Ninaithale Inikkum fame brings us a deeply moving story about the special bond shared by a single father and his autistic son.
Haridas is an action cum family drama based on the theme, "For each and every child, his/her father is the first hero". Produced by Dr V Ramadoss of DR V Ram Productions, Haridas features Kishore, Sneha, Prithviraj Das, Soori, and Pradeep Rawat in the lead roles.
The story alternates between Sivadas (Kishore) playing the roles of an aggressive encounter specialist on one hand and a doting father on the other.
Prithviraj Das plays the role of his 10-year-old son, Haridas, who is autistic. Haridas is a motherless child, who is brought up by his grandmother in a village, but after her death, Sivadas is forced to bring him to Chennai and take over the responsibility of looking after his special needs.
Now Sivadas is in a dilemma choosing between his career and his duty as a father. Amudhavalli (Sneha) is Haridas' teacher and she helps Sivadas understand his son and gradually she becomes an important part of his life. Comedy actor Soori and the school mates of Haridas provide the comic relief in the film.
Kishore has had two back-to-back releases this month. Vana Yudham released last week and Kishore received rave reviews for his realistic portrayal of sandalwood smuggler Veerappan in the film.
Though he is better known for his negative characters in films such as Polladhavan and Aadukalam, Kishore makes quite an impression in this film playing the character of a good cop and a devoted father with equal conviction.
The dual characterisation gives him greater scope to prove his acting skills and with this superb performance, Kishore guarantees his acceptance in this genre of films.
Sneha, who returns to the screen after a brief break after she got married, gives an admirable performance. Dressed in simple cotton sarees and salwar suits, Sneha has given a brilliant performance as a compassionate middle-class school teacher.
Special credit must be given to Prithviraj Das, who steals our hearts with his beautiful expressive eyes and a remarkable portrayal of a child suffering from autism, without uttering a single dialogue.
The music by Vijay Antony is quite enjoyable, especially the song sung by Shankar Mahadevan, Annaiyin Karuvil, which has some beautiful lyrics by Annamalai.
Shoting almost entirely in Chennai, cinematographer R Rathnavelu has worked to keep the scenes looking natural and simple without overwhelming the script.
The script is definitely a big plus and has inspired everyone acting in the movie, even the characters with small roles, such as Amudhavalli's sister and mother, Sivadas's colleagues and of course Haridas's friends at school; everyone has managed to play their part to perfection.
The only negative aspect of the film would be the slow pace, but even that has been adequately compensated by the racy scenes between the cops and the villain.
The director's attempt to bring to light the myths and ignorance surrounding autism is truly commendable. Also the film lays emphasis on the role of a father in his child's life, and how a little love, patience and understanding can help a child overcome any physical or mental disability.
Haridas is extremely touching. A must-watch.
Rediff Rating: