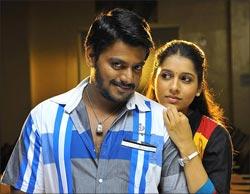 Srikanth Srinivasa say Guru has a breezy narrative and some surprisingly well shot scenes.

The Kannada film Guru, in which veteran comedian Jaggesh turns director for the first time, is a sincere effort to keep the audience engaged and entertained.

The film is not the run-of-the-mill college caper story. It starts with Guru (Gururaj) getting thrown out of college. He is forced to join another college in a big town where his brother lives with his family.
Since his brother's wife doesn't want Guru to stay with them, he stays in a hostel.
He keeps visiting home, and falls in love with sister-in-law's sister Ankitha (Rashmi Gautham) who is a doctor. The two slowly take a liking to each other and begin to meet secretly.
Guru lands in trouble when he finds a bag at the door of his hostel room which contains stolen mobile phones and a video camera.
The camera has footage of a police officer confessing to the crime of killing a young businessman on the highway. The police officer is blackmailed by his live-in girlfriend and gets killed.
Three cops try to hide the crime and it's Guru who is framed and taken hostage. But he escapes. There is a lady cop Tejaswini who is assigned to probe the case. Whether Guru comes clean of the charges forms the rest of the story. Jaggesh needs to be commended for the slick editing that has made the pace of the film quite racy in the first half. However, the climax is a bit disappointing and tame.
Jaggesh seems to have a firm grip on the narrative. There is not a single boring moment in the film.
There are some funny moments that make you smile but the film lacks a single truly comical moment, which is surprising coming from a veteran comedian like Jaggesh.
Gururaj has lived his role and has it in him to make it as an action hero given his unconventional, rugged and rustic looks.
Rashmi Gautam plays the role of a sweet girl with aplomb. Shobhraj is good. Sudha Rani impresses with her straight-faced performance as a strict cop. Srinivasa Murthy is adequate as the college principal.
Ramesh Babu's camera work is splendid and Vinay Chandra's music is breezy.
Guru is worth a watch for the breezy narrative and some surprisingly well shot scenes and slick editing.
Rediff Rating: