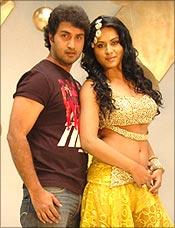 Shruti Indira Lakshminarayana reviews the Kannada film, Gun.
Post YOUR reviews here!
Harish Raj returns to the silver screen both as an actor and director with the action film Gun. He has Nikhita and Mallika Kapoor for company in his comeback film.

Raj (Ganesh) is an engineering college dropout. The onus to run the household falls on his mother and sister as Ganesh has little time to do anything but drink from morning till night. A hip TV journalist with a golden heart, Mallika (Mallika Kapoor), tries changing the drunkard but his past never fails to catch up with him.

While we won't divulge details about the flashback, we'll surely tell you that Vandana (Nikhita) is central to it. And where does a gun figure in all this? Well it's following a shootout that Ganesh's life changes course.

Gun is a mix and match of action and sentiments, but both fail to make an impact. The film drags even as the inebriated hero tries to make you respond to his pain and problems. Let alone sentiments, even comedy is far from being impressive.

Harish Raj is no doubt a good actor and director, and that he had proved with Kalaakar. But this time around, he falters. The Kalaakar in him also does not stand out in Gun. Raj was expected to come up with an entertaining script post Kalaakar but Gun comes across as just another formula action flick. The logic sans climax only adds to the damage.

This film that tells the story of the significance of a gun in a youth's life also stars Rangayana Raghu as a character with grey shades. He does his bit as a 'Hindu-Muslim bhai-bhai' politician with sincerity. Bullet Prakash tries hard to tickle your funny bone, but the not so funny situations fail him.

Two songs stands out -- Taja taja... is a soft catchy number. But it's not too long before you find out that the tune is something that you have heard before.

Camera work is good in the song. There is an item number even. Kiran Rathore has been roped in for the song, but the music and the actress leave very little to be desired! 

The film sees the hero mouthing a dialogue on how it looks like Kannada films are stuck in the past (referring to same old formulas, not to mention the hugely popular flashback scenes). Sadly Gun is no exception.
Rediff Rating: