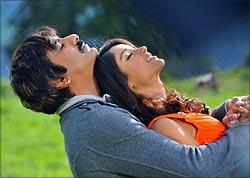 Puri Jaganandh's Devudu Chesina Manushulu is devoid of a storyline and is a half-baked film with poor characterisation says Radhika Rajamani.
Director Puri Jagannadh churns out movies fast. This year he has already made two films,
Businessman
and
Devudu Chesina Manushulu
, his latest release.
However, in the process of making quick movies, Jagannadh doesn't concentrate on a strong storyline or characterisation. Instead, he just tries to make the films slick and stylish.
Invariably, without much of a story there isn't much to look out for, and logic too goes for a toss. This is the case with his latest film
Devudu Chesina Manushulu
(
DCM
) too.
 It's difficult to sit though
DCM.
It seems to have no plot, wafer-thin characterisation, and a poor script and dialogues.
Jagannadh has attempted a new narrative style like the German film
Run Lola Run
but it may not go down well with audiences used to the regular pattern of storytelling.
Lord Vishnu (Brahmanandam) narrates a story to Goddess Lakshmi (Kovai Sarala) at her behest. The story is about humans and what is happening on earth.
Ravi Teja (Ravi Teja), an orphan, is adept at making small time settlements. He lands in Bangkok as a result of a series of circumstances that occur when Papayya (M S Narayana) throws a banana peel on the road.
In the Thai capital he runs into Ileana (Ileana), an orphan like himself, who drives a cab for a living. They strike up
a friendship and Ravi has to find the don Prakash Raj.
After the interval, the director rewinds again, as the goddess wants to look at the film in another way. And then follows the climax.
The narrative style may be new in terms of storytelling but seems hard to digest, with the director trying to stretch the film, introducing different characters as protagonists.
Interest in the film wanes as it progresses and one is tired at the end. Yawn!
It's boring to see Ravi Teja doing almost the same thing over and over again in every Jagannadh film. Even the slightly quirky depiction of the don's character doesn't seem realistic. The love track between Ravi Teja and Ileana too is not convincing.
As far as acting goes, Ravi Teja shows off his high energy levels but at times he looks slightly jaded. Ileana has nothing much to do except drive the cab and look glamorous. She could have chosen a better hair style, though.
Brahmanandam and Kovai Sarala look pretty awkward as the god and goddess, and Ali goes overboard at times. Prakash Raj and Subbaraju do what they can, given the poor delineation of their characters.
The production values of the film are good with a major portion of the film shot in Thailand and the songs in Europe.
Sam K Naidu's camera work is fine but Sekhar could have been more stringent with his editing. Raghu Kunche's music sounds decent.
It's better to stay away from
Devudu Chesina Manushulu
.
Rediff Rating: