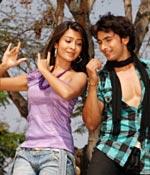 Shruti Indira Lakshminarayana reviews the Kannada film Gaana Bajana.

Director Prashant Raj returns with his favourite team -- Tarun, Radhika Pandit and Dilip Raj -- in the romantic Kannada flick Gaana Bajana.

Krish (Tarun) loves Radhe (Radhika). Radhe doesn't reciprocate his feelings even after getting engaged to him, following family pressure. Her interest lies in Kuttu (Dilip), her dance partner. Kuttu is the brother of a local don and it is this status that attracts Radhe. Will Krish shed his chocolate boy image and turn tough to win his love or will Kuttu win?

Gaana Bajana moves at a brisk space, but the end is predictable. Set in today's urban world, the film caters to the young crowd. It remains to be seen if the young audience will be able to ignore the not-so-funny interruptions by C R Simha. Even Sharan's Annaiah act does not tickle your funny bone.

Though there is no great script to support them, the lead actors put up a good show. Radhika and Tarun do justice to their roles, but it is Dilip who comes out with the best performance. He gets his comic timing right too and lights up the screen.

Well shot songs tuned to Joshua Shreedhar's music are the other highlights of the film. The songs are well backed by stylish and contemporary choreography.
But what could have been a good family entertainer falls short of striking a chord.
Rediff Rating: