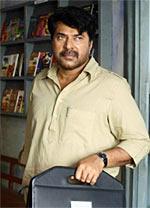 Paresh C Palicha feels Emmanuel has a half baked story and cannot be expected from a director Lal Jose's calibre.


Veteran director Lal Jose confronts the 'new gen' phenomenon in Malayalam cinema in his new venture Emmanuel. The film stars Mammootty (the 'old world' megastar) and Fahadh Faasil (the 'new gen' kid, who is carving a distinct niche for himself). Needless to say, the film is in the 'old-gen' genre of film making.


Emmanuel (Mammootty) is a 'full of goodness' family man going through an economic disaster as his job is at risk in an old publishing house.


His boss is on the brink of bankruptcy and has not paid his salary for the last three months. Emmanuel, who lives his life by the book, is emotionally blackmailed by his boss who threatens suicide whenever he is asked to pay his employee's salary.


Emmanuel finds a new job in a 'new age' private insurance company as a sales executive, by-passing the eligibility criteria of being under the age of 25 by impressing the interview panel with his spontaneous selling skills. But he had snubbed his new boss, Jeevan Raj (Fahadh Faasil), who was also on the panel, in the process.


Jeevan is the exact opposite of what Emmanuel is; he is a ruthless go-getter with a gluttonous appetite for profits. It goes without saying that he is unethical to the core. His simple mantra for increasing profits is to deny claims, whether from a widow in her seventies (Sukumari, in one of her last appearances) or a terminally ill single mother.


Emmanuel's young colleagues are no better; they steal customers canvassed by him and become star performers. On the other hand, Emmanuel lies, cheats and indulges in violence for the helpless and even helps a staunch rival in a time of personal crisis.


The script by Vijeesh A C just seems to deal in black and white— Emmanuel is all white and rest of the world, black. He does not only question Jeevan's ethics, but also raises doubts about his sexual orientation and his means of getting the top job.


His effort to show the slimy dealings going on in air-conditioned offices, makes it all look fake (just look at Emmanuel running on foot after the imported car of a prospective customer in an effort to meet the impossible sales target).


We have seen Mammootty in such roles umpteen times and he looks jaded. It cannot be compared to his memorable roles by any stretch of the imagination.


Fahadh Faasil looks excited to be confronting Mammootty scene after scene, but eventually comes undone by the half-baked characterisation.


Lal Jose is on slippery ground dealing with this lopsided story. He turns out to be a disappointment going by recent form.


Emmanuel is disappointingly average coming from such an enviable team.
Rediff Rating: