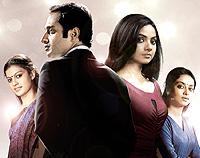 Malyalam film Diamond Necklace can be called a coming-of-age saga, writes Paresh C Palicha.
For a work of art to stay relevant beyond the era it is made in, it should say something profound with simplicity that transcends time. Director Lal Jose tries something like that in his new film
Diamond Necklace
, written by Ikbal Kuttippuram.
It tells the story of a young high flying oncologist working in the Middle East. On the surface it may appear as if they have rehashed the story of
Arabikatha
(the writer-director duo's previous collaboration), where we saw the low life of the working class in Dubai and here we see the razzle-dazzle of the rich that can starry-eyed youngsters.
Dr. Arun (Fahadh Faasil) lives off plastic money (he is shown carrying around a wallet full of credit cards), drives swanky cars and enjoys life to the hilt without worrying about the future. The risk of such a lifestyle comes into focus when we see his car being towed by the creditors. Next we get to see that his upmarket lifestyle is like a house of cards, as he is banned from leaving the country by his creditors, even to see his sick mother.
This is just a part of the story, the focus is on his relationship with the people around him. There is Savithri Akka (Rohini), his boss
in the hospital who, in a sense, spoils him with sisterly affection.
Lakshmi (Gauthami Nair), a newly recruited Tamil nurse in his department may be the first girl Arun is seriously smitten by. Rajasree is played by débutante Anusree, with whom he is tricked into marriage.
Basically, it boils down to how Arun gets sucked into the quagmire of his own making. We can risk calling this film a 'coming of age' saga.
There are images throughout the film that portray the transformation a character goes through very well without being preachy or pedantic. If we feel like complaining, it would be about the fact that every character comes out of complications stronger without even suffering a psychological repercussions.
Coming to the performances; the characters seem to be so well etched out and most of the actors look totally at ease and in control. We have been hearing only good things about Fahadh Faasil for sometime now. He plays Dr Arun effortlessly.
It is difficult to pick the best out of the three leading ladies; each one of them is on equal footing, experience does give Samvrutha a little advantage.
One can just end by saying that Lal Jose puts his might behind the change sweeping Malayalam Cinema of late and has come out with a
Diamond Necklace
that is not to be missed.
Rediff Rating: