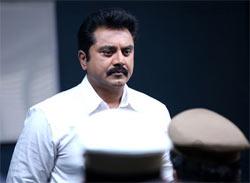 S Saraswathi says Chennaieil Oru Naal has an extremely well-written script, some brilliant editing and perfect execution.
A remake of the critically acclaimed Malayalam film Traffic that won many awards and was a huge success at the box office, Chennaieil Oru Naal (CON) is a fictionalised account of a real-life incident that occurred in Chennai.
CON is co-produced by Listin Stephen under the banner of Magic Frames and Radhika Sarath Kumar's Radaan Media Works.
It is directed by debutant director Shaheed Khader, former assistant of Rajesh Pillai, director of the original Traffic.
It is written by brothers Bobby and Sanjay, popular Malayalam film script writers, whose script for Traffic won them many awards.
The traffic signal is often the meeting ground for people of different backgrounds; be it a poor laborer on his lowly cycle, a popular celebrity in his E-Class Mercedes Benz, or a bank employee on his trusted scooter.
People under different circumstances with different problems, along with their dreams and aspirations, come together for a few minutes, and then, in the blink of an eye the road empties and everyone goes back to their own lives.
It is at one such signal that all the characters of CON happen to come together. Being engrossed in their own problems none is aware of the other. But fate has other plans for them and soon each of them is forced into the life of the other.
So how does this happen? How do all these people happen to be at the exact same place at the exact same moment? What forces them back together again? Like in a hyperlink, the director takes us back in time to the lives of each of these characters.
Prakash Raj plays a popular actor, Gautam Krishna, who is on his way for an important interview. It is young Karthik's (Sachin) first day at work as a journalist and TV presenter and he is very excited. He also plans to introduce his girlfriend to his parents on that day.
Then there is traffic constable Satyamurthi (Cheran), who is joining back on duty that same day after being suspended for two months for taking a bribe. Cardiac surgeon Robin (Prasanna) is on his way to meet his beautiful wife as it is their anniversary and he wants to surprise her with a new car.
Why and how these complete strangers come together and that too in a very brief period of just 12 hours, is what Chennaieil Oru Naal (A day at Chennai) is all about.
The narrative has some very interesting twists and turns and the director manages to extract many emotions like love, despair, guilt, pride, deceit, humiliation and remorse from his actors. Some really intense emotional scenes are alternated with some extremely exciting racy scenes and the result is amazing.
Music by Mejo Joseph is definitely a big plus for the movie. CON has two songs, but the background score keeps you enthralled. The tempo smoothly changes from extremely fast-paced and exciting in the racy scenes to slow and sad in the emotional ones.
Sarath Kumar plays the city police commissioner and is quite impressive. Lakshmi Ramakrishnan as Karthik's mother also gives a great performance.
Though there are some scenes which seem unwarranted, overall it is a great movie and the pace keeps you glued to your seat. The film also effectively manages to educate the public about the concept of organ donation.
Chennaieil Oru Naal has an extremely well-written script, some brilliant editing and perfect execution. It is about a series of unrelated events that are linked together to culminate in a single life-changing incident. Every character has an equal role to play in the plot and being seasoned actors, we have some good all-around performance.
It's a film not to be missed.
Rediff Rating: