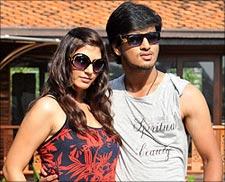 Radhika Rajamani says a bad script, inept direction, and poor technical values will keep audiences away from Disco.
Some movies make you wonder why they were made. Why do producers shell out huge sums of money to make movies that are sheer torture for filmgoers? Like
Disco,
directed by newcomer Hari Chanduri.
Nothing in the film catches our attention and the script is a total let-down. Hari Chanduri has worked with Puri Jagannadh on 10 films, but the pupil doesn't really reflect the guru's style, except for the violence and Bangkok as the location (it's Jagan's favourite location).
Hari has taken the liberty to do a parody of Puri's
The Businessman,
through the character played by M S Narayana which is the one funny element in the film.
The improbably named Disco (Nikhil Siddharth) is an orphan who has three good friends he always hangs around with. He's interested in making money and is quite a self-centred guy. He falls in love with Shiney (Sara Sharma) on Valentine's Day and professes his love for her at first sight. They traipse off to Thailand, where Disco gets one of his friends fixed up with a goon's sister in order to get his hands on a dowry of Rs 100 crore. There's some skydiving on an island belonging to the inevitable don (Ashish Vidyarthi). And, oh yes, Shiney is in love with her classmate Varun.