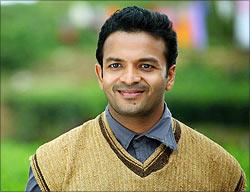 Paresh C Palicha says David & Goliath doesn't even adhere to its title and director Rajeev Nath loses the plot right from the start.
Anoop Menon is the scriptwriter and Rajeevnath the director of David & Goliath (they had teamed up in Pakal Nakshatrangal in 2008). And in the lead role of David is Jayasurya (who has been paired with Anoop Menon in several successful films),
This film does not adhere to its title as such; here David (Jayasurya) fights his owns inner demons and helps others around him do the same.
David is an orphan who is left outside an isolated church on a tea plantation. He is rescued by the priest (P Balachandran) and grows up to be a smart and pious boy under the tutelage of the priest.
But David has a problem: he gets nervous and gets nose bleeds whenever he is surrounded by people. He has to drop out of school because of this but he is a genius at making useful things out of scrap. He develops a water heater for the priest who does not have a geyser because he cannot afford to pay the high electricity bills
We expect an epic conflict between this meek hero and a cruel giant, but that does not happen. David uses his modern sling to save Sharon (Soumya) from a rowdy drunk. But this incident isn't taken any further as Sharon vanishes into oblivion having become a nun.
David's life turns topsy-turvy when the priest is killed by a snake bite and the plantation in where the church is situated is bought by a company from Bengal. David has to vacate the place and all his inventions are sold as junk.
By a miracle one dynamo-like invention that can light a bulb reaches Sunny (Anoop Menon), an engineer who has sold his inheritance when his businesses failed. Sunny thinks the invention can reverse his fortunes if it is mass produced and marketed properly. He finds David and makes him improve on his invention and turn it into a treadmill that can light up a house when used for physical exercise.
As it is with every Anoop Menon script, this film too has some high octane philosophising and discussion on morals. But, truth be told, the film is held together by the performance of Jayasurya even as the highbrow stuff fizzles out.
Anoop Menon as Sunny, the young family man with a point to prove to the world, looks very casual and repetitive.
David & Goliath, in the final analysis, turns out to be a disappointment because in the end it seems to be just all about lighting up a bulb.
Rediff Rating: