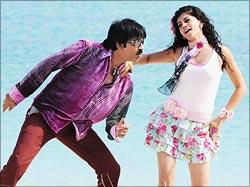 Daruvu may be lapped up by Ravi Teja fans but others may find it pretty dreary, writes Radhika Rajamani. 

Ravi Teja is an actor who works within his comfort zone and his films -- a mix of comedy and action -- seem to go down well with the masses. His comic timing and energy level are quite high and this enthusiasm is reflected on screen.
It's the same choice of subject that makes his films a tad monotonous. That's the problem with his latest Telugu release
Daruvu
, directed by Siva.
Siva is heavily influenced by the
Yamaloka
films of the past like
Yamaleela
,
Yamudiki Mogudu
and
Yamadonga,
where the protagonist goes to Yamaloka and comes back to earth in another body.
Daruvu
treads the same path.
Bullet Raja (Ravi Teja), a small time crook is often in and out of jail but despite that is a good samaritan. He runs into Shwetha (Taapsee Pannu) at her engagement with Harbour Babu (Sushant Singh) and falls in love with her. He proposes to her, which sparks off rivalry between Bullet Raja and Harbour Babu which ends in Bullet Raja's death.
When he reaches Yamaloka, Bullet argues with Yamadharmaraja (Prabhu) regarding his death. Yama sends him to earth in the body of Ravindra (Home Minister) who has been killed by his associates (Sayaji Shinde, Avinash, Raghu Babu). A power struggle ensues with Harbour Babu.
There are loopholes in the plot and logic is given the go-by. Siva does not show any creativity. He tries to put in a message, which has been hammed up in many other movies too. There is nothing significant about the film and it's far too long.
Although Ravi Teja carries Daruvu on his shoulders, the script lets him down. His comic timing is impeccable.  One wonders he doesn't tire of working in the same potboilers over and over again.
Taapsee has nothing much to do except look shocked. She has so few scenes one wonders why she accepted this film.
Brahmanandam, as Vidya Balan, the dance master, induces some laughs. Jayasudha is dignified in her portrayal as the mother. Prabhu, M S Narayana 'Vennela' Kishore, Srinivas Reddy, Sayaji Shinde, Raghu Babu, Avinash, Sushant Singh do what is asked of them.
Technically, the film is below par—be it the music, cinematography or editing. The film looks slightly garish and tacky and is certainly loud.
Daruvu may be lapped up by Ravi Teja fans but others may find it pretty dreary.
If the tagline 'Sound of Mass' means that it's right for the masses, then it's got that right; a discerning audience won't find anything to cheer about.
Rediff Rating: