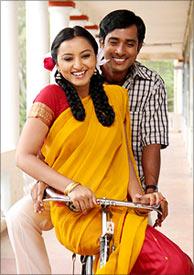 Srikanth Srinivasa says Charminar is worth a watch for people who would like to revisit their school and college days.
Director R Chandru, who made Taj Mahal, has exceeded expectations and surprised audiences with Charminar, which strikes an emotional chord with the audience.
Chandru has likened Charminar to the four pillars in everyone's life – parents, teachers, friends and lover. Although he has tried to blend all the four pillars in the narrative, it is the element of love that becomes the focal point.
The film is a series of flashbacks of the life of Mohan (Prem) who comes to India from the US to attend a school reunion. He comes originally from a small town and has made it big overseas.
The reunion gives rise to the flashbacks. As a schoolboy, he was called ABCD Mohana because he was unable to even write the alphabet.
He was always in awe of his classmate Radha (Meghana Gaonkar) and finds he is in love with her. Though the two were friendly with each other, he was unable to express his love for her.
Mohan sought Radha's help in his studies and secretly put a love letter to her into a book. Her mother found the letter and complained to the principal.
Mohana was summoned and so was Radha. Mohana was shattered when Radha said she had no feelings of love towards anyone except her mother and that she recognises motherly love as the only love in the world.
The principal advised Mohana to first reach his goal and then think about love. Mohana went to an engineering college and did so well that he became the head of a company in the US.
Back in the present, at the school reunion function, Mohan goes in search of Radha but does not find her. He decides to fly back to the US but wants to meet her one last time.
One is reminded of Sudeep and Cheran's movie Autograph.
Prem Kumar has worked hard to live his role by sporting different looks, which is one of the high points of the film.
Meghana Gaonkar, who doesn't have many dialogues, nevertheless gives an exceptional performance. She is able to convey her emotions effectively through her eyes. She looks 'homely' for most of the film and is ravishing in the songs.
Rangayana Raghu shines in a brief appearance although a scene with Prem could have been differently picturised. Suresh Mangalore as Prem's father and Padmini Prakash as the mother are adequate.
Chandru's dialogues strike a chord with audiences. Although there are a few flaws in the narrative, especially in the second half when it drags a bit, this can be overlooked because of the emotional content of the film.
Chandrashekar's camera work is superb and is in tune with the narrative. Debuntant Hari's musical score is pleasant.
Charminar is an exemplary effort from Chandru. See it for those nostalgic moments and if you want to take a walk down memory lane.
Rediff Rating: